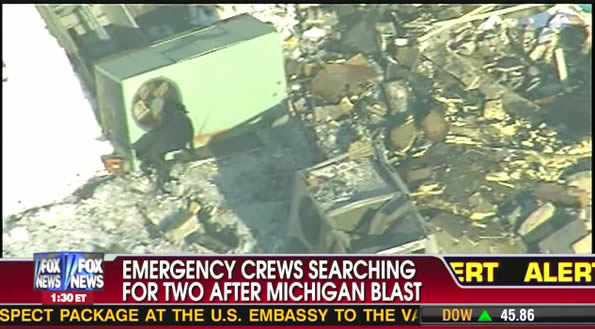 Search dog checks a roof top air conditioner or other type of rooftop unit and other debris in collapsed furniture store in Wayne, Michigan. Rescuers were searching for two employees of the furniture.
UPDATE: One body pulled out of debris about 6:40 p.m. CST.
A family-owned furniture store in Wayne, Michigan near suburban Detroit exploded and collapsed in an apparent natural gas explosion Wednesday. The incident trapped three people in the rubble. The store's owner was rescued with life-threatening injuries, while two people remain trapped.
As of 12 noon CST, rescuers were searching for two trapped employees that are have not been found. Rescuers are trying to call the employees' cell phones and have evacuated the neighborhood.