Arlington Heights police responded to four crashes during the evening rush on Monday. Only one crash incident involved injuries.
About 6:30 p.m. Monday Arlington Heights police responded to a crash on Kennicott/Frontage south of Palatine Road. One car was reported broadsided with a person trapped in the car. No injuries were reported on the crash. One car was broadsided and the crash was likely caused by weather conditions and click roads. Police called out for salt in the area. One of the vehicles was a black Mazda 5.
A second crash occurred about 7:10 p.m. Monday at Arlington Heights Road and Council Trail with injuries reported. Lanes were blocked. No word on injuries or destination hospital.
A third crash occurred about 7:45 p.m. Monday on Rand Road in front of Burlington Coat Factory. No reported injuries.
A fourth crash occurred about 10:00 pm. Monday at New Wilke Road and White Oak. A green Concorde and a white Chevrolet Suburban crashed with airbag deployment, but no injuries were reported.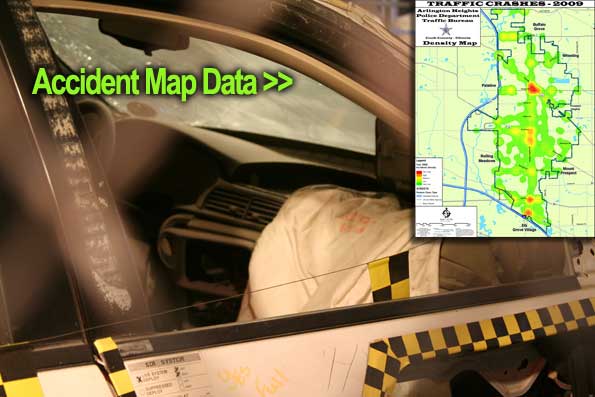 Click the graphic to access the accident map data for the Village of Arlington Heights.