WGN LIVE video recorded before all firefighters were 'accounted for' at about 8:13 a.m. CST Monday.
UPDATE: Two firefighters killed, four firefighters in serious-to-critical condition, ten firefighters injured in stable condition. Click for Updated Article …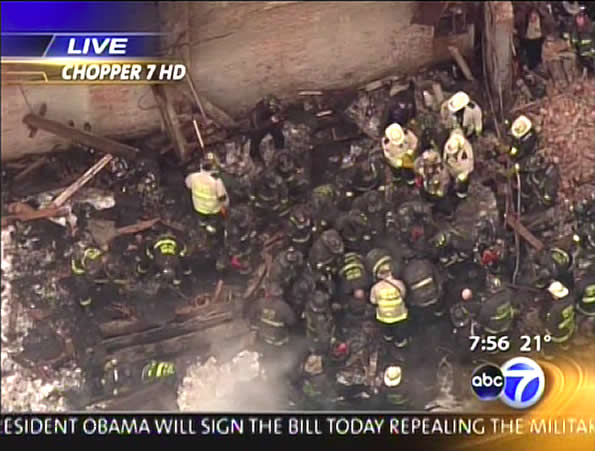 Still frame from video of ABC7 Chicago Chopper7HD. See ABC7Chicago.com Firefighters trapped in wall collapse …The frame shows all hands at work just before a firefighter was rescued from rubble.
Chicago Fire Department responded just before 7:00 a.m. Wednesday to a fire in a vacant one-story building in the 1700 block of East 75th Street. Just after 7:00 a.m. four firefighters were were reported trapped and a 'Mayday' was called when a wall collapsed. There was a conflicting report that a fifth firefighter was trapped, but there may have been confusion by news crews because firefighters were playing it safe and continuing their search while their roll call was underway and awaiting confirmation.
Two firefighters were immediately rescued and rescue operations were underway for two firefighters that were under a collapsed wall of the building. A third firefighter was reported rescued just after 8:00 a.m. Video of frantic removal of debris by hand from a group of about 50 firefighters was seen from ABC 7 Channel 7 CHOPPER 7 HD this morning.
The extra-alarm fire was a 2-11 just before 7:10 a.m. and raised to a 3-11 just before 7:20 a.m. as the fire was reported to be extending in the building.
Firefighters reported having water supply problems with frozen fire hydrants. Fires often are at risk of getting out of control when manpower is focused on rescues, and when water supply problems exist.
The conditions of all of the injured firefighters is unknown, but two were reported to be transported to Northwestern with life-threatening injuries.
At 8:05 a.m. firefighters were working on "search and extinguishment."
An announcement that 'all firefighters were accounted for' was declared at 8:13 a.m.
Firefighters were transported to Northwestern and Advocate Christ Medical Center — both Level I Trauma Centers.
At about 9:00 a.m. a report that a total of 15 ambulance transports occurred from the scene — apparently including firefighters involved in rescue that may have been injured.
The 3-11 Alarm fire was struck out at 9:11 a.m. Monday. The EMS Plan II was struck out at 9:11 a.m. Monday. The MAYDAY was also announced secured at 9:11 a.m.
Roadway blocked: 75TH Street between Stony Island and Euclid was blocked both eastbound and westbound during firefighting operations.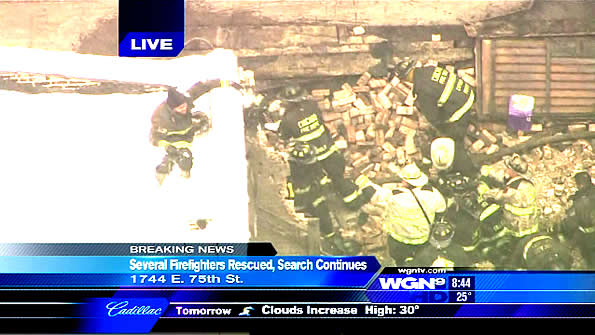 WGNTV coverage from helicopter … See Firefighters trapped after building collapses, call for MAYDAY response.
News helicopter crews braved snowy weather with poor visiblity.
Today's fire incident occurred on the 100-year anniversary of the Chicago Union Stockyard fire that killed 21 firefighters. Twenty-one firemen, including Fire Marshal James J. Horan, were killed in the stock yards fire when one of the blazing buildings collapsed with the firefighters inside. Until Sept. 11, 2001, the 1910 Chicago Union Stock Yards fire was the deadliest building collapse in American history in terms of firefighter fatalities. The Chicago Union Stock Yards fire remains the worst firefighter fatality incident in Chicago history.

View Chicagoland Major Fires & Rescues in a larger map