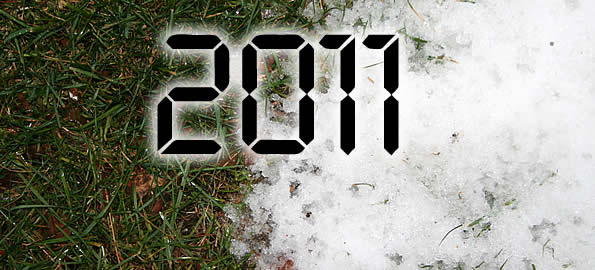 2011 (MMXI) is a common year starting on Saturday — the 2011th year of the Common Era, also known as the Christian Era or the Anno Domini designation; the 11th year of the 3rd millennium and of the 21st century.
The United Nations has designated 2011 the International Year of Forests and International Year of Chemistry.
Upcoming highlights of 2011 …
January 4 – Partial solar eclipse visible over most of Europe, the Arabian peninsula, North Africa, and Western Asia.
February 3 – Chinese New Year.
March 8 – Shrove Tuesday / Mardi Gras, end of Mardi Gras / Carnival season.
March 9 – Ash Wednesday (first day of Lent).
March 21 – (Northern hemisphere) Vernal equinox, also known as Ostara & Persian New Year
April 1 – The Space Shuttle is scheduled to undertake its final mission before retirement.
April 18 – Passover begins at sundown.
April 24 – Easter (Western and Orthodox).
April 29 – The wedding of Prince William of Wales and Kate Middleton is scheduled to take place in Westminster Abbey on St. Catherine's Day.
Sometime in April – Pakistan is scheduled to launch its first space satellite.
In May – Jupiter, Venus, Mercury, and Mars all visible within a roughly 6° area of sky.
June 1 – Partial solar eclipse in the Arctic.
June 15 – Total lunar eclipse, mainly visible in Africa, India, and the Middle East.
June 21 – Summer solstice (northern hemisphere), also known as Midsummer or Litha. Winter solstice (southern hemisphere.
July 1 – Partial solar eclipse off the coast of Antarctica.
August 1 – Ramadhan Begins — Islam.
September 28 – Rosh Hashana begins at sundown.
October 7 – Yom Kippur begins at sundow
November 25 – Partial solar eclipse in Antarctica
November 26 – Islamic New Year.
December 10 – Total lunar eclipse, visible mainly in Asia, Australia and Alaska.
December 20 – Chanukah.
December 22 – Winter solstice (northern hemisphere), also known as Yule. Summer solstice (southern hemisphere)
December 25 – Christmas
December 31 – All United States troops are scheduled to leave Iraq.

New Year's Resolutions.
Blue Waters, a petascale supercomputer being designed and built as a joint effort between the National Center for Supercomputing Applications, the University of Illinois at Urbana-Champaign and IBM is expected to be completed in this year.
A new definition of the kilogram, based on universal constants, is likely to be announced at the 24th General Conference on Weights and Measures.
Health Insurance Changes for 2011 …
Preventative services will increase, but doctors are being reimbursed less.
Reimbursements cut. Waits for preventative service will be longer.
Private insurance premiums are going up. No caps on premiums because not enough to money to pay administrative costs.
State exchanges don't arrive on the scene until 2014.