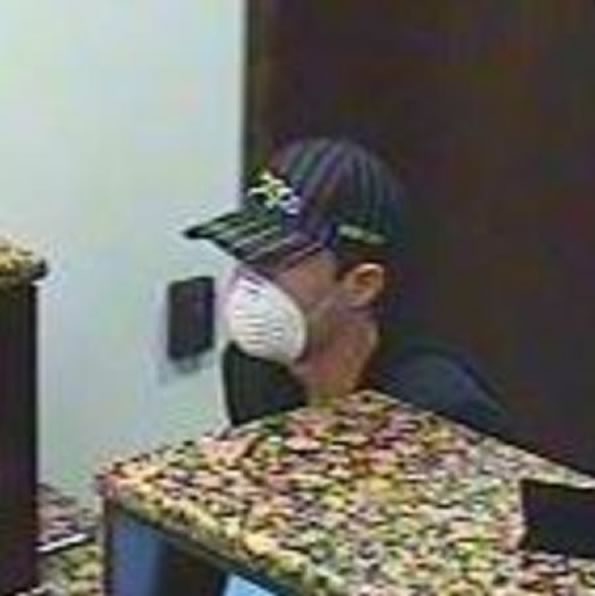 'Swine Flu Bandit' believed to be Matthew Mahoney, suspect in multiple bank robberies.
Matthew Mahoney, who was arrested while looking in a bank window on November 10, is a Bank of America employee on leave with a back injury.
Mahoney, 28, was arrested Wednesday afternoon (Nov. 10), without incident, by members of the Chicago FBI's Violent Crimes Task Force (VCTF) in the 1200 block of South Wabash Street as he was apparently planning the robbery of a 10th bank. VCTF members were inside the First American Bank, located at 1241 South Wabash, which had been robbed by the "Swine Flu Bandit" in September. Task force members noticed MAHONEY standing outside. He not only matched the description of the robber, but was wearing what appeared to be the same clothes that were worn during robberies earlier in the week. When VCTF agents approached Mahoney, they discovered a 9 mm semi-automatic handgun in his coat pocket.
Matthew Mahoney — AKA 'The Swine Flu Bandit' — used his banking know-how in his holdups. The robber was named 'The Swine Flu Bandit' because he wore a white surgical mask in his earlier robberies, telling inquiring bank employees that he had or was recovering from the swine flu. The FBI found $224,000 in a safe in a South Side home where he was residing.
According to the FBI, Matthew Mahoney entered the Chase Bank, 550 South Dearborn Street, Chicago just before 2:00 p.m. on November 6, 2010 and approached a bank employee — pulling a handgun from the pocket of his jacket and announcing a robbery. He then demanded to be escorted to the vault, which he forced a second bank employee to open. He then ordered the two employees to fill a large brown bag, which he brought with him, with cash. After the bag was filled, he forced one of the bank employees to accompany him to the bank's exit, warning them not to activate any alarms. He then fled into the passing crowd with an amount of cash over $55,000.
Though only charged with the November 6 robbery, Mahoney is a suspect in eight additional bank robberies. Mahoney appeared before Magistrate Judge Jeffrey T. Gilbert in U.S. District Court in Chicago facing one count of armed bank robbery, which is a felony offense, on Thursday, November 11th. He was formally charged and ordered held without bond. Mahoney has been held at the Metropolitan Correctional Center (MCC) in Chicago. If convicted, Mahoney faces a possible sentence of up to 20 years' incarceration.
This case was investigated by the Chicago FBI's Violent Crimes Task Force, which is comprised of FBI special agents, detectives from the Chicago Police Department, and investigators from the Cook County Sheriff's Office.
Ironically, Mahoney testified earlier this year as a employee-witness in a bank-robbery trial.
Matthew Mahoney's father is convicted killer Dennis McArdle, who pleaded guilty to murder and was sentenced to 35 years in prison after he was hired by Daniel Bowen to kill Bowen's wife. Matthew Mahoney's mother is a Chicago cop.
Additional information about this investigation and other unsolved bank robberies, including downloadable photographs, is available at the Chicago Bandit Tracker website, bandittrackerchicago.com
Readers are reminded that Matthew Mahoney is presumed to be innocent unless and until proven guilty beyond a reasonable doubt in a court of law.