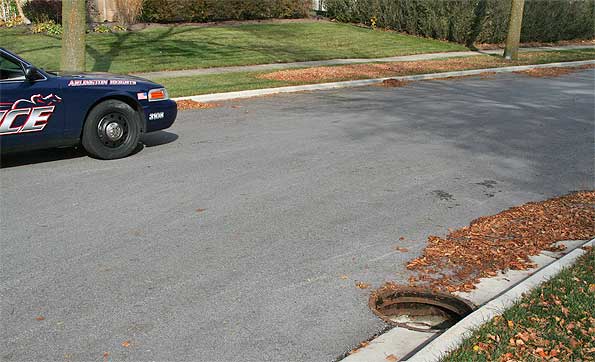 Missing drain cover near the southeast corner of Berkley and Patton.
Arlington Heights police responded about 2:30 p.m. Monday to reports of missing drain covers or manhole covers. At least two and possibly more were missing from the southeast corner of Patton and Berkley, and the 700 block of West Burr Oak Drive, and possibly one other address.
Police have alerted citizens to be on the lookout for suspicious vehicles that might be involved in the theft.
During a two-week period of October 5-19, eight (8) storm drain covers were removed from roadside curb receptacles by unknown person(s). Drain covers are made of iron and these particular grates are circular 'honeycomb' style, weighing approximately 100 pounds each. A single cover is valued at $100. There are no unique markings affixed to identify a cover as village property.
Apparently some thieves break up the iron with a hammer. Most scrap yards won't except intact drain covers because of the likelihood that they were stolen. The smashed pieces of drain cover are not as valuable as an intact drain cover.
People with poor eyesight or people walking jogging or cycling at night are at risk of falling in holes left open by stolen drain covers. Some communities have legislated more severe punishment for offenders convicted of stealing drain covers.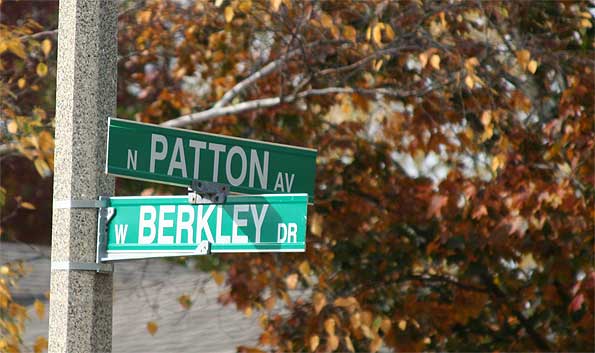 The Police Department is asking local residents to remain vigilant and report suspicious activity. Anyone who observes unauthorized person(s) acting suspiciously near a village storm drain structure is asked to be a good witness and call 9-1-1 immediately. Obtain a description of the individual(s) and any associated vehicle. Do Not attempt to intervene; personal safety is paramount. Information can be transmitted anonymously by calling Crime Stoppers at 847-590-STOP(7867) or emailing crimestoppersATvah.com.
NOTE: The Village of Arlington Heights responds rapidly to the theft also as a hazard and works to guard against injuries and damage that could result from hitting the open drain cover as a pedestrian, bicyclist or driver of a vehicle. Beware of open holes that have not been reported.
See also …
The Cardinal Arlington Heights Police Alert Residents About Series of Storm Drain Cover (Manhole) Thefts
BBC News China manhole thefts prove deadly