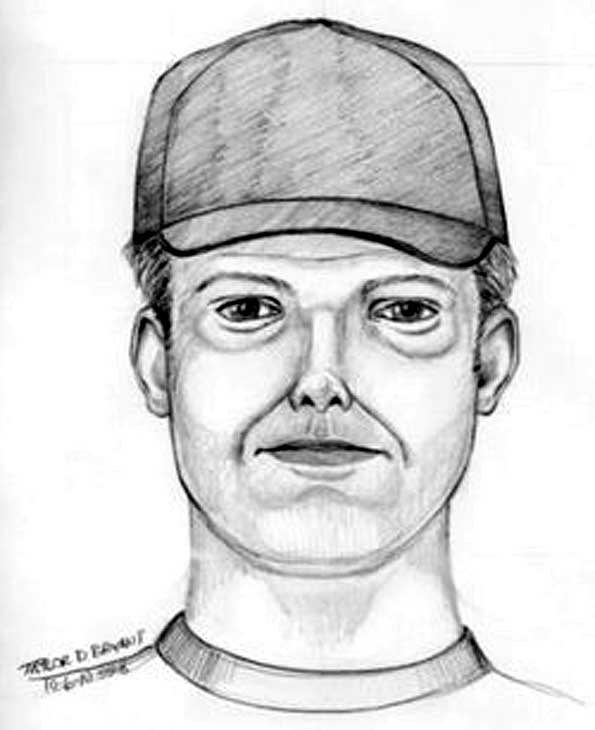 Composite sketch provided Thursday Oct. 7, 2010 by Lake County (INDIANA) Police Department shows the suspect in Tuesday's random shootings at a work site in Illinois, followed by more shootings at an Indiana farm.
UPDATE: CHARGES DROPPED.
Brian Dorian, accused of murder in a shooting spree near the Illinois-Indiana border has been released and his murder charges have been dropped. Brian Dorian had an alibi — providing prosecutors with details of his whereabouts with records of store receipts.
Authorities also uncovered evidence that showed Dorian was at home using his computer, during the first shooting on October 5, 2010.
ORIGINAL TEXT BELOW:
A man who is a suspect in the shooting spree that killed one person in Illinois and injured two others in Illinois and Indiana has been arrested, according to the Will County Sheriff's Police Department. The suspect that was arrested in Lynwood, Illinois is a Lynwood police officer, who has been on leave since October 2009 after injuring his shoulder while on duty. Brian Dorian, 37, was arrested on first-degree murder charges after a warrant was served at his Lynwood home. His bail is $2.5 million.
Yesterday, police released an updated sketch of the Illinois-Indiana suspect, described as a white heavyset man dressed in a green windbreaker and a baseball cap. He was also described as unkempt, mentally unbalanced, and believed to be driving a light-colored Chevy Cheyenne pick-up truck — likely between the years 1995 and 1998.
The man fitting the description was wanted for approaching three construction worker, shooting two of them and killing one the workers near Beecher, Illinois. He then crossed the Illinois-Indiana border and shot and injured a farmer.
Illinois and Indiana law officers created a bi-state task force to track down a gunman who talked about bees and plywood, and then killed one person, seriously wounded two others and terrorized residents on both sides of the Illinois-Indiana border.
Ballistic tests indicate the same gun — a .38-caliber or .357-caliber Colt revolver — was likely used in the shootings in both states.
A Lynwood police officer has been arrested in connection with the shooting of three people, one fatally, along the Illinois-Indiana border this week, authorities say.
Brian Dorian, 37, was arrested on first-degree murder charges after a warrant was served at a home in south suburban Lynwood, according to the Will County sheriff's office.
He is being held on $2.5 million bail.