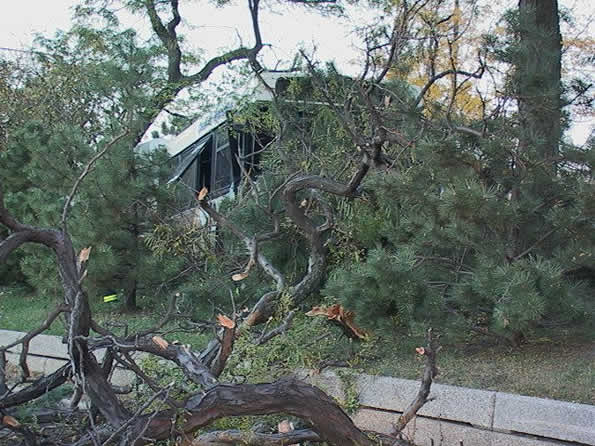 CTA bus involved in crash that injured 72 people near Lake Shore Drive and Interstate 55. Photos courtesy Todd Sherman/Facebook & YouTube.com/7089540230.
Chicago Fire Department responded about 5:50 p.m. Saturday for a CTA articulated/extended bus that ran off the roadway near southbound Lake Shore Drive south of Interstate 55 and hit a tree. Some fire and paramedic units were staged at 31st and Mow. Initially, the bus was reported to be fully loaded with about 50 passengers, but the count increased to 72. Most of the patients were reported to have minor injuries, but a triage area was set up that could include victims with serious injuries.
Final report from fire command was declared with 72 total victims injured — three patients in need of immediate treatment, eleven victims in stable condition, and 58 ambulatory 'walking wounded' victims.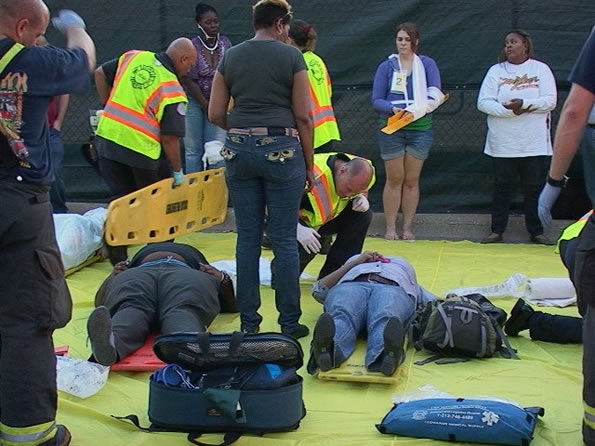 Triage setup showing yellow sheet/mat covering grass, backboards, splints and triage tags. Photos courtesy Todd Sherman/Facebook & YouTube.com/7089540230.
Chicago Fire Department and area suburban fire departments use color coded tags to triage victims for treatment and transportation demands.
RED TAGS – IMMEDIATE ADVANCED LIFE SUPPORT REQUIRED for victims who cannot survive without immediate treatment and have a chance of survival.
YELLOW TAGS – Victims are treated and under observation for indication of worsening condition. 'Yellows' are not in immediate danger of death and are considered stable, unless observations prove otherwise. These victims will still require hospital care and would be treated immediately under normal circumstances without the overload of a mass casualty situation.
GREEN TAGS – Victims are ambulatory. The victims can wait for treatment and are considered "walking wounded" who will need medical care at some point, after more critical injuries have been treated in a mass casualty situaion.
WHITE TAGS – Victims are dismissed with minor injuries with no requirement of a doctor's care.
BLACK TAGS – Victims are deceased or have obvious fatal injuries that are so extensive they are not likely to survive given the care or resources that are available. Resources would be more likely to go to care for 'Reds' in a mass casualty situation.