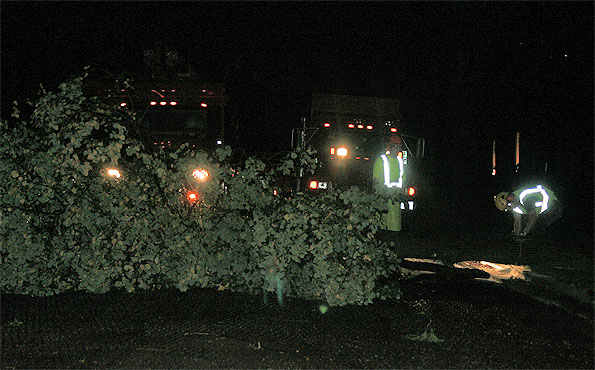 Arlington Heights Public Works crews clear Pine Avenue, just south of Miner Street about 9:45 p.m.
Storm Report Updates
Arlington Heights
Reported by police at 6:09 p.m. entire tree down at Burr Oak east of Kennicott
Reported by police at 6:12 p.m. multiple trees down on side streets on west side of town about 2000 North
Lines down, transformer on fire Rand and Thomas
0-99 block West Henry Tree on patio deck
2300 block of North Arlington Heights Road tree down on power lines
1400 block North Highland
Miner and Douglas line down and sparking
Tree down across Wilke at Miner — entire tree down across all four lanes, northbound and southbound.
Tree down Miner and Pine, just south of Miner
700 block of North Kennicott
1400 block North Highland tree or power lines down
1000 block East Olive — tree on power lines/primary line brought down by trees.
Beverly Lanes Bowling Alley struck by lightning with hole in the roof — no fire or smoke showing as of 6:30 p.m.
Unknown object through the roof on 600 block West Brittany Drive.
1100 block North Beverly tree/wire sparking.
Lights at Dryden and Kensington are out.
900 block North Patton — tree down on power lines.
Rand and Camp McDonald — tree blocking Rand Road.
1300 block of North Chicago Avenue — tree down on power lines/backyard utility pole snapped.
900 block of North Harvard Avenue trees and/or power lines.
800 block of North Walnut Avenue tree down on a house.
Techny east of Arlington Heights Road — tree snapped on primary lines.
2000 block East St. James — branch hanging on primary line and contacting chain link fence — energizing fence.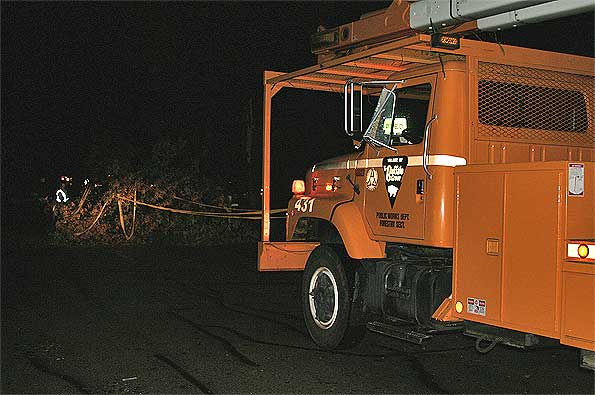 Buffalo Grove
Pole down on a car — people can't get out, no injuries Prairie and Half Day.
0-99 block of Golfview lines down arcing in back yard.
Large tree down near Arlington Heights Road, Checker, McHenry.
Longwood Drive tree blocking the road.
500 block of Checker tree down.
Bedford tree down
Wyngate tree down
Crestview tree down
Thomson east of Brandywine large tree blocking road
400 block of Navajo
Mount Prospect
Lincoln and Candota Mount Prospect Lines sparking
1800 East Wood Lane large branch down on the line — smoking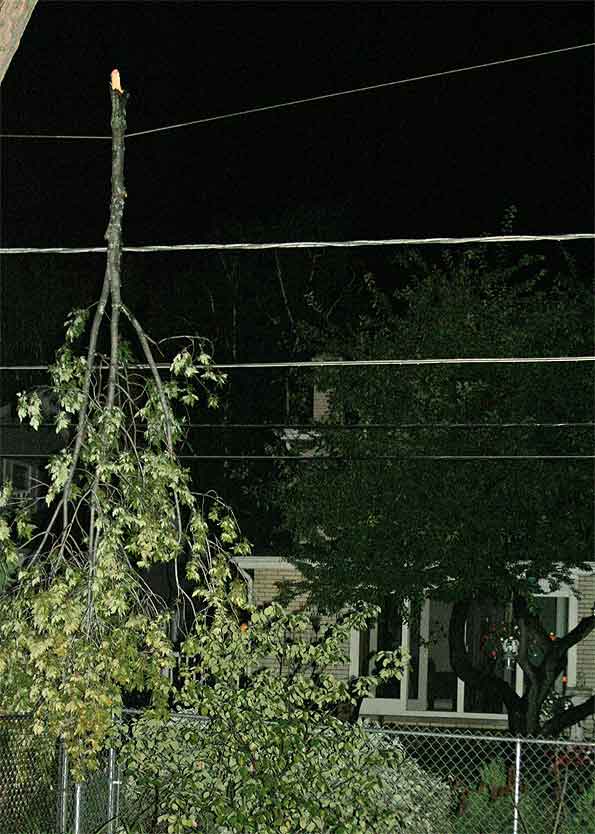 A wet tree branch hooked on a primary electric line (18,000 volts) at the top and resting on a metal chain link fence at the bottom in a backyard of the 2000 block of Eat St. James.
Firefighters had to standby and make sure no neighbors contacted a metal chain link fence in the backyard of a residence in the 2000 block of East St. James. The fence was energized by a tree branch connecting an 18,000 volt power line to the metal chain link fence.

Arlington Heights public works crew removing tree across Pine Avenue, just south of Miner Street.
Become a fan of The Cardinal weather page. Submit your pictures or just stay up-to-date on weather topics. For a list of all of The Cardinal Facebook fan pages, go to Arlingtoncardinal.com/about/facebook …