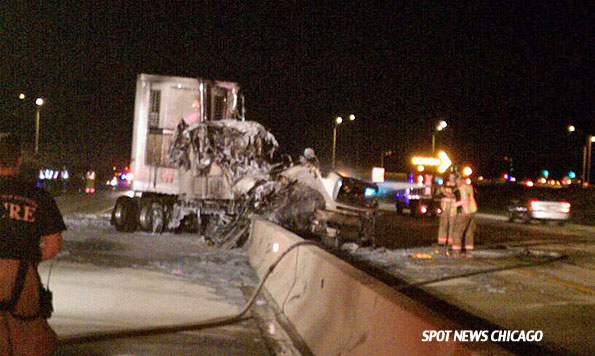 Semi-Trailer truck on median of I-90 just west of Beverly Road. Photo courtesy Pauley LaPointe/Spot News Chicago.
Illinois State Police, Elgin firefighter/paramedics, Hoffman Estates firefighter/paramedics, and IDOT crews responded about 10:05 p.m. Tuesday to a crash with fire involving a semi-truck that rear-ended a disabled BMW vehicle on eastbound Interstate Highway 90 near Beverly Road, Hoffman Estates. The truck rode the median for a significant distance with both vehicles catching fire.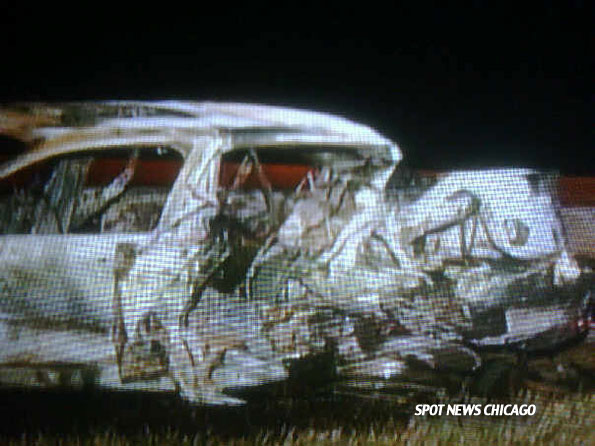 Disabled BMW after being rear-ended by semi-trailer truck. Photo courtesy Pauley LaPointe/Spot News Chicago.
Most of the truck's cab was completely burned and resting on its side in oncoming lanes with the trailer still in the direction of the original lanes traveled on I-90 near Beverly Road, just west of the Sears Centre Arena.
The eastbound lanes remained closed about 11:30 p.m. with westbound lanes reopened to traffic first.
The accident may have involved two other vehicles, according to early reports of the crash.
Three people were injured in the crash with the driver of the disabled vehicle injured with minor burns and airlifted to Level I Trauma Center Advocate Lutheran General Hospital in Park Ridge. The driver and a passenger in the truck were transported to Alexian Brothers Medical Center in Elk Grove Village with minor leg injuries from jumping out of the burning cab just after the crash impact with a turn-around gap in the median. The driver of the disabled BMW was outside of his vehicle attempting to push it out of the center lane when the truck approached. The driver was able to get out of the way of the impact, but he was hit by flaming debris coming off of the two vehicles. Apparently none of the injured victims had life-threatening injuries.
The medical helicopter landing zone was located on the tollway.

View Chicagoland Major Fires & Rescues in a larger map
Check Arlington Heights area police and fire calls every day on Twitter or the CRIME & FIRE BLOGS …

FOLLOW ARLINGTONCARDS ON TWITTER!
OR …
CRIME BLOG COLUMN …
FIRE BLOG COLUMN
Follow ALL Arlingtoncardinal.com posts and other tweets on twitter.com/earlyreport