Video of head-on crash aftermath on Windsor Drive at Suffield Drive in Arlington Heights.
Arlington Heights police and firefighter/paramedics responded about 4:50 p.m. Monday to a head-on crash at the intersection of Windsor Drive and Suffield Drive. A Mazda 6 and a Honda Civic crashed head-on resulting in severe font-end damage with passenger cabin intrusion in the Honda. Witnesses were surprised that no serious injuries resulted from the crash. The two drivers were out walking around the vehicles when rescuers arrived. Paramedics checked both victims, but no transport to the hospital occurred. Both drivers were wearing seat belts.
The crash was originally reported at Windsor and Valley and then Windsor and Hintz.
There were three crashes on Windsor Drive Monday …
1. Windsor and Valley — a personal injury accident reported about 2:00 p.m.
2. Windsor and Suffield — head-on crash reported about 4:50 p.m.
3. Windsor in front of Windsor Elementary School reported about 6:20 p.m.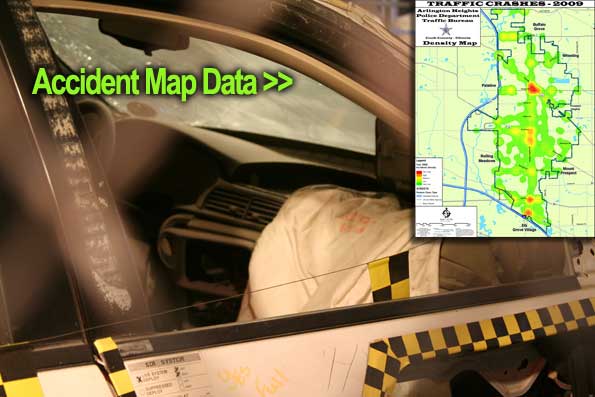 Click the graphic to access the accident map data for the Village of Arlington Heights.
Check Arlington Heights area police and fire calls every day on Twitter or the CRIME & FIRE BLOGS …

FOLLOW ARLINGTONCARDS ON TWITTER!
OR …
CRIME BLOG COLUMN …
FIRE BLOG COLUMN
Follow ALL Arlingtoncardinal.com posts and other tweets on twitter.com/earlyreport