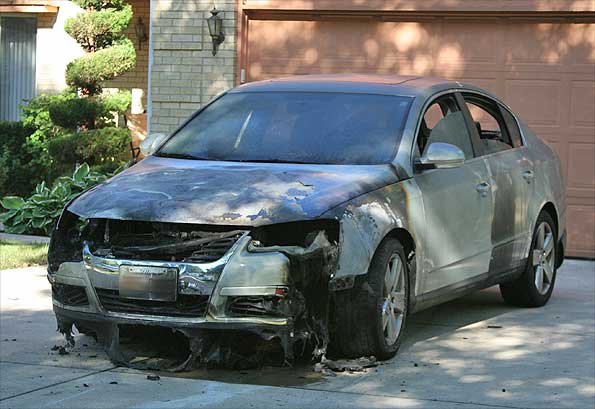 Fire-damaged Volkswagon Jetta: Firefighters stopped a well-involved car fire from spreading to an attached garage and house just after 2:30 a.m. Monday.
Arlington Heights firefighter/paramedics and police responded about 2:35 a.m. Monday to a report of fire in the garage and smoke filling the house in the 1200 block of North Pine Avenue. Firefighters arrived to find a silver Volkswagon Jetta fully involved inside the garage, with no fire extension into the house. The fire was struckout about 2:50 a.m. A silver Volkswagon Jetta was heavily damaged in the fire. The car needed to be towed out of the garage.
No reports of any injuries.
Check Arlington Heights area police and fire calls every day on Twitter or the CRIME & FIRE BLOGS …

FOLLOW ARLINGTONCARDS ON TWITTER!
OR …
CRIME BLOG COLUMN …
FIRE BLOG COLUMN
Follow ALL Arlingtoncardinal.com posts and other tweets on twitter.com/earlyreport