Video of storm that pounded Chicago, Elmhurst, Hillside, Westchester and other western suburbs especially hard Friday, as viewed from Payton Hill in Arlington Heights. Elmhurst and Westchester are on the horizon when the camera is panned left-center.
Video of intense electrical storm and rain storm that hit Chicago, Elmhurst and Westchester especially hard Friday night. By 11:30 p.m. underpasses were flooded, some as high as car roof tops in Elmhurst. Video shows intense cloud-to-ground lightning in the storm viewed from Payton Hill in northwest suburban Arlington Heights. About 7 inches of rain fell near O'Hare International Airport. Cloud-to-ground lightning visible is about 16 to 20 miles away to the south-southeast.
View
Chicago Storm 7.23.2010
in a larger map
Google map of viewing vantage point and viewing field toward Elmhurst and Westchester.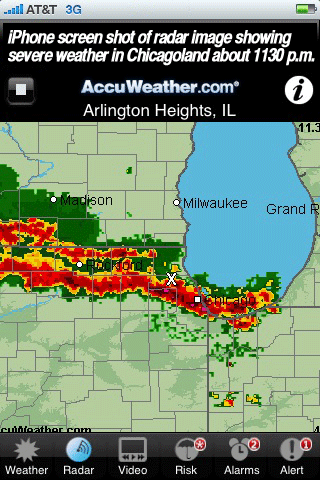 iPhone screen shot about 11:30 pm. Friday, July 23, 2010, of storms in a line from Indiana to Iowa — passing Chicagoland just south of O'Hare International Airport and drifting north.