Arlington Heights police and firefighter/paramedics responded to three crashed during the evening rush Tuesday. The first crash was at Grove and Evergreen just after 5:30 p.m. A black Cadillac STS and a Mazda MPV minivan crashed hard and one of the vehicle took out a light pole at the corner. The Cadillac had heavy front end damage and the minivan broke a front axle. Injuries reported at the accident with air bag deployment.
The second crash occurred about 5:40 p.m. Tuesday near Algonquin and Tonne and caused personal injuries. Silver Toyota Echo and another vehicle crashed there, just east of Arlington Heights Road.

The third crash occurred at Arlington Heights Road and southbound Rand Road about 7:05 p.m. Tuesday. A Chrysler Town & Country and another vehicle crashed at that scene with injuries reported.
In a third incident — possibly a motorist assist — about 5:30 p.m. Tuesday, a woman needed paramedics after falling out of a tow truck in the 1700 block of West Rand Road.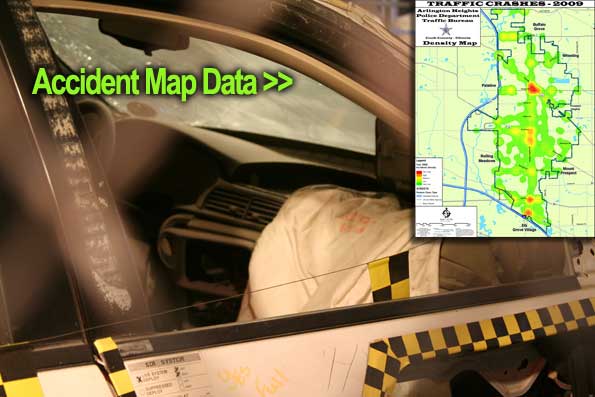 Click the graphic to access the accident map data for the Village of Arlington Heights.