VIDEO: Accident scene at Palatine Road, just east of Route 53 in Arlington Heights.
Arlington Heights police and firefighter/paramedics responded about 7:20 p.m. Tuesday to a rollover crash in the eastbound lanes of Palatine Road, just east of Route 53. One person in a white Honda sedan, which rolled over and landed upright, was injured and was helped out of the car with a quick extrication by Arlington Heights Fire Department. That person was transported to Northwest Community Hospital. A female in black Toyota Corolla was had minor injuries, but refused transportation by paramedics to the hospital. The air bag was deployed in the Toyota. The windshield in the Honda was popped in, and the roof of the Honda was also slightly damaged.
Traffic was congested in both directions with eastbound traffic flowing on the shoulder of Palatine Road under police direction. Westbound Palatine Road and the exit ramp from northbound Route 53 to eastbound Palatine Road was also backed up.
Check Arlington Heights area police and fire calls every day on Twitter or the CRIME BLOG column …

FOLLOW ARLINGTONCARDS ON TWITTER!
OR …
CRIME BLOG COLUMN …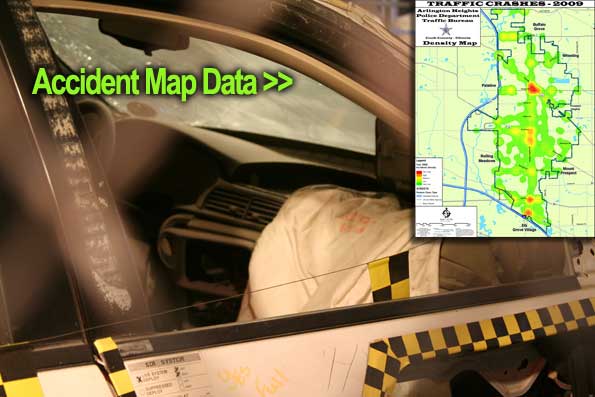 Click the graphic to access the accident map data for the Village of Arlington Heights.