In Waukesha County, the Village of Eagle has reported damage from a suspected tornado with winds in excess of 70 mph that were reported just before 9:20 p.m. Monday. Several homes have been damaged and there is a gas leak in town that was shut down by utility workers. Six homes collapsed in the storm and another 12 are reported damaged. As of 1:00 a.m. Tuesday only minor injuries, such as scrapes, cuts and bruises have been reported.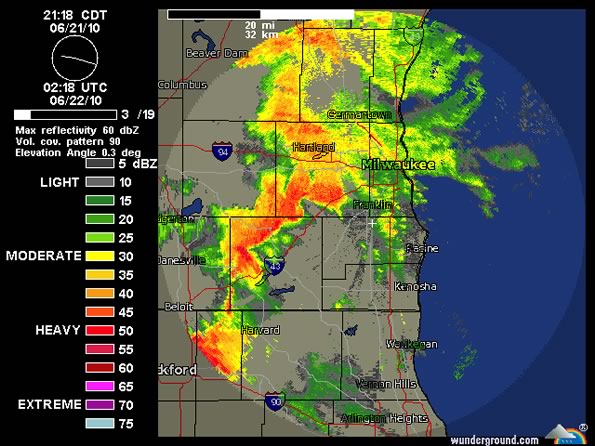 Radar image of storm over Village of Eagle and Waukesha County at 9:18 p.m. CDT (02:18 UTC).
Firefighters were conducting searches on all damaged homes. Police were following up with searches or contact with occupants of all residences. Some damaged homes were reported near Eastwood and Sherman. Damaged homes are also reported near Pleasant Street and Woodfield Drive. The location of the collapsed homes has not been confirmed, but is possibly on Sherman Street.
View Larger Map
Neighborhood streets (Sherman and Hawthorn) where damage was reported.
Eagle Fire Chief Justin Heim reported that his own house was collapsed, but his family was safe. He continued working on emergency operations through the night. Buses and All Terrain Vehicles (ATV's) were used to get stranded neighbors from their wrecked neighborhoods to safe refuge.
Some roads were totally blocked by debris and trees, some power poles were resting against homes.
Many areas nearby are reporting trees down, roof damage, hail damage and street flooding. Also reports of power outages throughout the region. An estimated 40,000 people are without power within Waukesha and Jefferson Counties. Mitchell International Airport had suspended flights for a period during the evening, but arrivals and departures were back on schedule later in the night.

Residents in southern Wisconsin are dealing with the aftermath of a violent tornado that ripped through their region damaging dozens of homes and injuring one person. Authorities are investigating why the warning siren failed.
As of 1:00 a.m. no access to the village of Eagle was allowed from the outside. Eagle is about four miles east of Kettle Morraine State Forest.
A police squad was hit by a work van near Main and Markham just before 1:30 a.m. Tuesday. Juveniles jumped out of the van and fled police. One of the offenders was described as wearing a dark colored T-shirt and dark blue jeans, and the other offender was described as wearing a light colored T-shirt and light blue jeans. No confirmation available, but it is possible that the juveniles were being chased by the owner of the van, which had just been stolen.
Police also had a report of four teens wearing fatigues, and possibly going through houses along Pleasant Street. Police caught up with the four teens, who claimed they were out helping people near Pleasant and Hawthorn. Another group of teens were also stopped in the neighborhood. The police commander reminded all officers that the Village of Eagle was in a state of emergency and that no people should be walking on the streets of Eagle.
As of 7:00 a.m. Tuesday and overnight residents have been allowed back at their residences, but are being told to stay at their residences. No one is allowed to walk on the streets in Eagle.
More/updates …
Wisconsin Emergency Management (WEM)
The Cardinal VIDEO, MAP of Tornado Damage in Eagle, Wisconsin; Roundy's Helping with Food