Frederico Moreno (left). View Chicagoland and Worldwide Crime Notebook Map in a larger map
Friday, June 18, 2010— Cook County Sheriff Thomas J. Dart announced Friday one of the biggest cannabis busts in the history of the department. On Wednesday, June 16th, sheriff's police seized 5525 lbs of marijuana with a street value of more than $20 million.
Acting on a tip, Cook County Sheriff's Police conducted surveillance of Frederico Moreno, 35, at a house on the 7800 block of West 47th St. in Lyons. During the course of the investigation, officers saw Moreno meet with various people, at one point exchanging a package, indicative of drug dealing. Police followed Moreno back to the home on 47th Street, where they witnessed him leaving in his car a short time later with a Tupperware container. Investigators stopped Moreno and arrested him, finding one bale of cannabis in his car. Officers then returned to the 47th Street house. As they were walking up to the home, another man fled through the house and escaped through the back, leaving the door ajar. In plain view, officers saw 224 bales of taped packages containing cannabis stacked inside the residence.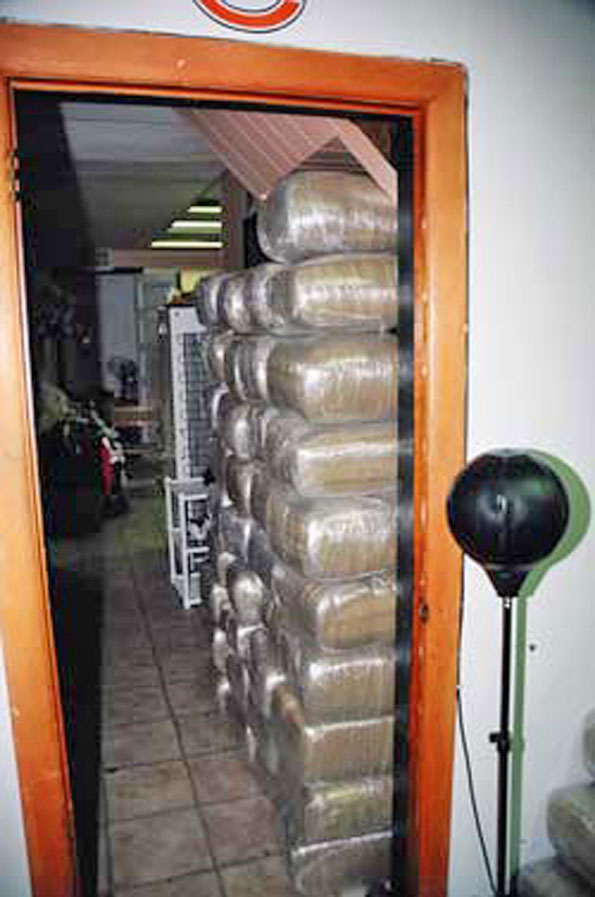 Stacked bales of cannabis — part of 5525 pounds of marijuana.
Moreno was a high level importer, part of a drug trafficking organization. He loaded the cannabis into the 47th Street house on trucks, entering at night through a printing company warehouse attached to the back of the home. An associate of Moreno's, who is not a suspect, had access to the warehouse after hours and rented the 47th Street house from the printing company. No one at the printing company is accused in this case.
The drugs seized came from Mexico and traveled through the Southwest, to be distributed in Chicago. The packages were to be sold wholesale to mid-level distributors, then broken down for street level sales.
The case was investigated by the Cook County Sheriff's Office North Narcotics team, made up of sheriff's police officers and investigators from the Cook County State Attorney's Office and the DEA. The investigation is ongoing.
Moreno has been charged under state law with manufacturing and delivery of cannabis, a Class X felony, which is the highest level, and carries between six and 30 years.
He will appear in Bridgeview bond court on Saturday. His legal status in the country is unknown at this time.