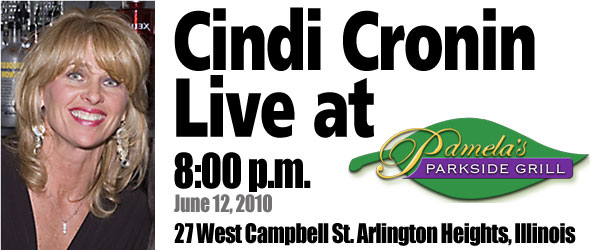 ARLINGTON HEIGHTS – Vocal artist Cindi Cronin sings standards, Sinatra, and more in a return engagement Saturday, June 12 at 8:00 p.m., at Pamela's Parkside Grill, 27 W. Campbell St., Arlington Heights.
Cronin, who is being joined by Mingus Matkus on saxophone, sings melodies that serve as suitable background during dining; she will follow with a second set so diners may take to the dance floor.
Pamela's Parkside Grill, the only upscale, non-ethnic restaurant in the town's bustling downtown
restaurant community, features an eclectic menu of grilled seafood and fine meats as well as several sauced dishes plus flambé desserts. The food offerings are complemented by unique artwork by local artists which is available for purchase.
Pamela's Parkside Grill is open for lunch Tuesday through Friday from 11: 00 a.m. to 2:30 p.m.; for dinner Tuesday through Thursday from 5:00 p.m. to 11:00 p.m., and Friday and Saturday from 5:00 p.m. to 9:30 p.m.; for Nite Bites Friday and Saturday from 9:30 p.m. to Midnight.; and for a combination menu of breakfast favorites, lunch offerings, and light dinner options Sunday from 11:00 a.m. to 5:00 p.m. The restaurant is closed on Mondays.
For more information contact Pamela's Parkside Grill, (847) 394-2728, or visit www.pamelasparkside.com
Cindi Cronin made her theatrical/ vocal debut in 1972 at Salley's Stage, a musical pizza eatery, as a Saturday night entertainer. In addition, in 1978 was a primary performer in Chicago Public Libraries "Vaudeville" production. Other theatrical credits include six years at The Kings Manor Dinner Theater as a cast member/ solo performer. (1978-1983). In addition to her vocal talents, Cindi attended Loyola University in 1978 to receive her certification as a Paramedic.. Working at Lutheran General Hospital 1979- 1985 was exciting but, music was her passion. After having two children and opening a party decorating business (for the past twenty years) entertaining was a must. In 1999 she met Lou Elia, a Chicagoland music promoter and has been singing ever since. Her present credits as a solo artist include: In Illinois, 3 Olives in Norridge, Valley Low Country Club in Glenview, Gionattis Resaurant in Schiller Park, Al Di La in Oakbrook, Dover Straits in Hoffman Estates. In Indiana, she has performed at the Indiana Beach Resort. She has also performed live with the Joe Valentino Trio, 200 East Supper Club in downtown Chicago.
See also …
CCsings.com