Angel McCord has car trouble on Hollywood Boulevard after apparently bottoming out her Porsche Carrera GT and losing some fluid from the bottom of the car.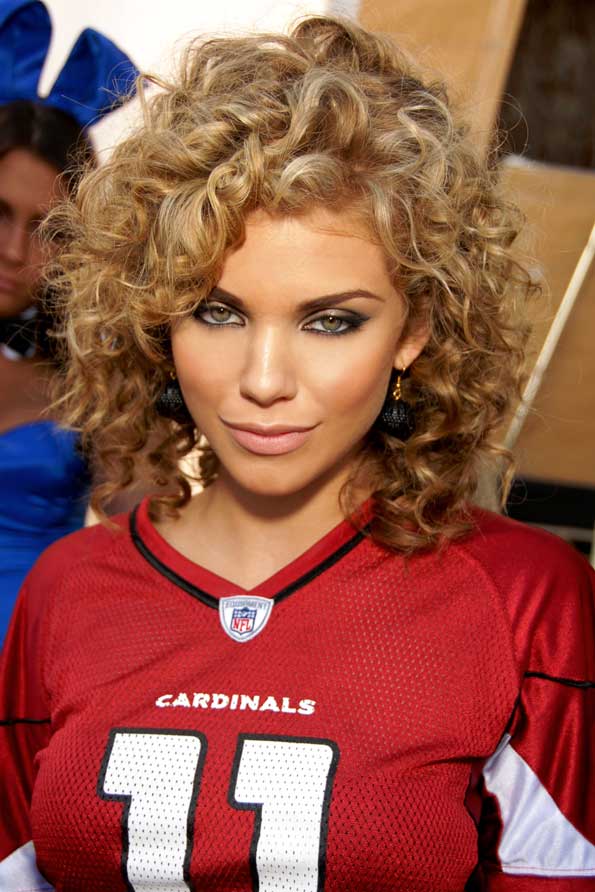 AnnaLynne McCord attending Super Bowl XLIII party at the Playboy Mansion on February 1, 2009. © Glenn Francis, www.PacificProDigital.com (myspace.com/glennfrancis).
Who is Angel McCord?
Angel McCord is AnnaLynne McCord's sister. Angel was born May, 1985, and is a model and novelist.
First and foremost AnnaLynne McCord is a Cardinal fan. AnnaLynne McCord (born July 16, 1987) is an American actress. Known for playing a range of vixen-type roles, McCord first gained prominence in 2007 as the scheming Eden Lord on the FX television series Nip/Tuck, and as the pampered Loren Wakefield on the MyNetworkTV telenovela American Heiress. In film, she has appeared in the action feature Transporter 2, as well as the thriller Day of the Dead.

In 2008, she was the second actor to be cast in the CW series 90210, portraying antiheroine Naomi Clark. Initially, the part of Clark was conceived as a supporting role. By the end of the first season, however, various media outlets had begun referring to McCord as the series' lead.
Apart from acting, she has also contributed to charities in her free time, and has been labeled by the Look to the Stars organization as "one of the strongest young female philanthropists standing up in Hollywood and fighting for the charities she believes in."[4] In 2009, McCord was nominated for a Teen Choice Award, and received the Hollywood Life Young Hollywood Superstar of Tomorrow award.

Porsche Carrera GT
The Porsche Carrera GT (Project Code 980) is a mid-engined sports car that was manufactured by Porsche in Leipzig, Germany. The Carrera GT is powered by a 5.7 litre V10 engine producing 612 DIN (605 SAE) horsepower (450 kW), whereas the original concept car featured a 5.5 litre version rated at 558 hp (416 kW). Porsche claims it will accelerate from 0 to 100 km/h (62.1 mph) in 3.9 seconds and has a maximum speed of 330 km/h (205 mph), although road tests indicated that in reality the car can accelerate from 0-60 mph (97 km/h) in 3.5 seconds and 0-100 mph (160 km/h) in 6.8 seconds, while 0-125 mph (201 km/h) in 9.9 seconds.
The Carrera GT has a basic five colour paint scheme which includes Guards Red, Fayence Yellow, Basalt Black, GT Silver and Seal Grey. Custom colours were also available from the factory. A traditional six-speed manual transmission is the only available transmission. Attached to this gearbox is a beechwood gearknob which pays homage to the wooden gearknob used in the Porsche 917 Le Mans racers. In its second year of production, a limited edition carbon fiber knob was also made available.
The Carrera GT has large side inlets and air dams that help cool the large V10 engine framed by the carbon fibre rear bonnet. Fitted with Porsche's latest Carbon fiber-reinforced Silicon Carbide (C/SiC) ceramic composite brake system, the 15-inch (380 mm) SGL Carbon disc brakes make an impressive appearance underneath the 19 inch front and 20 inch rear wheels. Similar to other Porsche models, such as the 911, the GT includes an automated rear wing spoiler which deploys above 70 mph (110 km/h).
The interior is fitted with soft leather. Bose audio system and navigation systems are available as options. In typical Porsche fashion, the ignition is to the left of the steering wheel. This placement dates back to the early days of Le Mans racing when drivers were required to make a running start, hop into their cars, start them and begin the race. The placement of the ignition enabled the driver to start the car with his left hand and put it in gear with his right.
Notable technology includes a pure carbon fiber monocoque and subframe, dry sump lubrication and inboard suspension. The carbon fiber monocoque and subframe were produced and assembled by ATR Composites Group of Italy. The spoiler of the Carrera GT extends into the air when the car reaches about 70 miles (110 km) an hour and evens out the air flow, which causes less drag. The Carrera GT radiator is about five times the size of a 911 Turbo's. Front and rear suspension consist of pushrod activated shock absorbers and dampers with front and rear anti-roll bars.
Towing by Hollywood Independent Towing/Hollywood Independent Auto Body