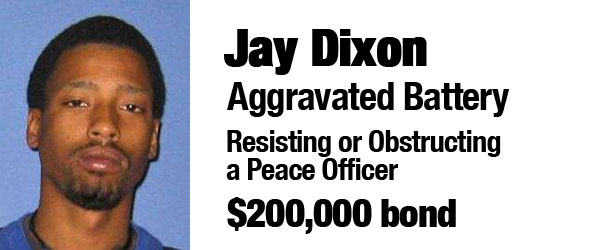 Jay Dixon will receive credit for time he served in jail since his arrest October 16, 2009.
Jay Dixon, 22, of the 500 block of South Milwaukee Avenue, Wheeling, pleaded guilty to aggravated battery to a police officer and was sentenced today to six months in jail with two years probation for involvement in a scuffle with a Harper College police officer last fall. Dixon has been in custody since his arrest and will receive credit for time served in jail.
The police officer, Jose Hernandez, 58, who is still recovering from a skull fracture, was responding with another officer to a disturbance caused by a crowd that gathered to watch a female student dancing provocatively on campus. When asked to leave, Dixon refused. When asked for identification, Dixon also refused. When police began to remove Dixon from the area, he shoved Hernandez, who fell against a concrete wall, hit his head, and lost consciousness.
Dixon fled, but was captured a short time later. Jay Dixon faced charges of aggravated battery and resisting or obstructing a peace officer Friday, October 16, 2009 at Circuit Court of Cook County Third Municipal District Rolling Meadows. Cook County Circuit Court Judge Jill Marisie set Dixon's bond at $200,000 (post 10 percent for release). Dixon was held at Cook County jail.