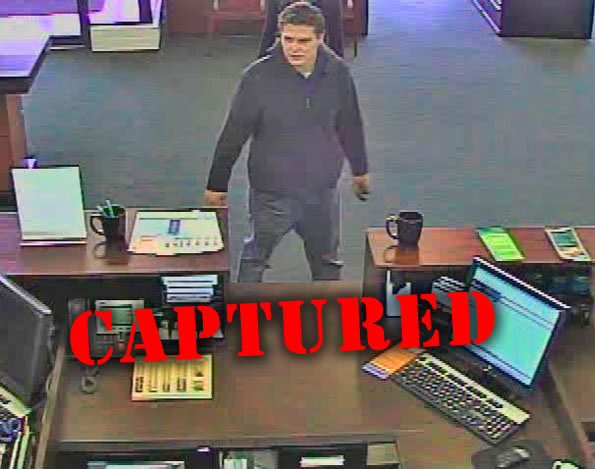 Bank video surveillance image from the robbery at the TCF Bank, 950 W. Meacham, April 5, 2010.
The man suspected of robbing the Village Bank & Trust, 311 South Arlington Heights Road on April 28 was arrested by Arlington Heights police officers peacefully outside his residence in the 4400 block of Shorewood Drive in Hoffman Estates Saturday morning.
The bank robberies were investigated jointly by the FBI and detectives from the Arlington Heights, Elk Grove Village, Hoffman Estates, Rolling Meadows, Schaumburg and Wheeling police departments.
James W. Fedij, 29, was also charged related to the April 5 robbery from the TCF Bank at 950 N. Meacham Road in Schaumburg; the April 12 robbery of the Harris Bank at 1680 W. Algonquin Road in Hoffman Estates; the April 16 robbery of the Harris Bank at 10 Huntington Lane, Wheeling; and the April 21 robbery of the Harris Bank at 1 S. Arlington Heights Road in Elk Grove Village.
The criminal complaint charges James Fedji with five counts of armed bank robbery filed Tuesday in U.S. District Court in Chicago. He was formally charged in front of U.S. Magistrate Judge Michael Mason in Chicago and was ordered held without bond.
Publicized bank surveillance photos, such as the photo above, led to several tips from the public. The leads were investigated and resulted in the arrest of the suspect.
Fedij graduated from Buffalo Grove High School.