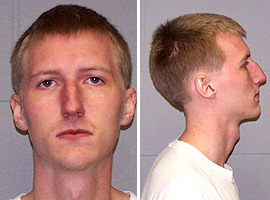 William Clark
Charged with 'Attempted Murder'
in West Dundee, Illinois.
William Clark, 20, of Winaki Trail, Algonquin was charged with attempted murder after stabbing his ex-girlfriend at a Bath and Body Works store, Spring Hill Mall in West Dundee.
The offender walked into his 21-year-old ex-girlfriend's workplace at 8:30 p.m. Wednesday. He then forced her into a men's bathroom, an allegedly stabbed her in the back with a 7-inch bayonet knife.
The stabbed woman was transported to Sherman Hospital, Elgin where she is listed in fair condition after emergency surgery.
Security officers and bystanders detained William Clark until West Dundee police arrived.