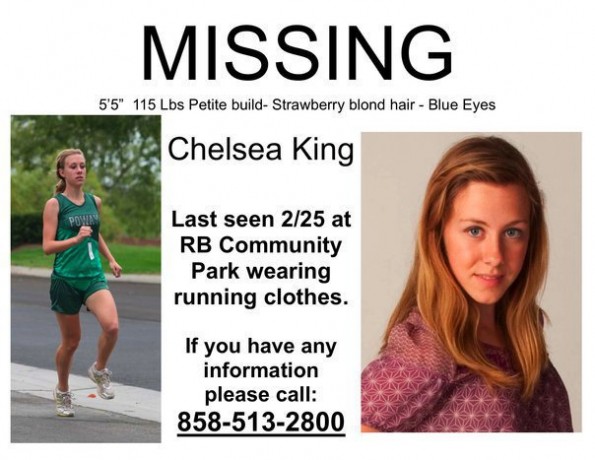 CONVICTION OF JOHN ALBERT GARDNER …
DEVELOPING at 6:00 PM CT Tuesday March 2 … Body found near a Lake Hodges in shallow grave …
Chelsea King, a senior at Poway High School, has not been seen since 4:00 p.m. Saturday, when she was apparently running at a running trail at Rancho Bernardo Community Park in San Diego. Chelsea King's parents reported her missing on February 25 after the she failed to return home after running at a community park. Her family discovered her belongings (cell phone and iPod) in her 1994 BMW parked at the wooded area later in the night after it was realized she was missing.
View Larger Street View

Lake Hodges is just northwest of Rancho Bernardo Community Park:
View Larger Map of Rancho Bernardo Community Park in San Diego …
About 1,400 volunteers and more than 100 law enforcement officers failed to find Chelsea King on Sunday.
Physical evidence was discovered that led to the arrest of 30-year-old John Albert Gardner of Lake Elsinore — about 75 miles north of the park. SanDiego6.com reported Monday that underwear found near Lake Hodges contained DNA that lead investigators to Gardner. Investigators also suspect Gardner is connected to a December 27 assault on a female jogger from Colorado Springs. Authorities are also investigating whether Gardner was involved in the disappearance of Escondido High School freshman Amber Dubois, 14, who has been missing since she was walking to school in February 2009.
Gardner was required to register as a sex offender because of a conviction for lewd or lascivious acts with a child under 14, the Megan's Law Web site (John Albert Gardner). Gardner was convicted in 2000 of molesting a 13-year-old girl and sentenced to six years in prison, according to the San Diego Union-Tribune.
King's family lived in Naperville before they moved to Poway, California.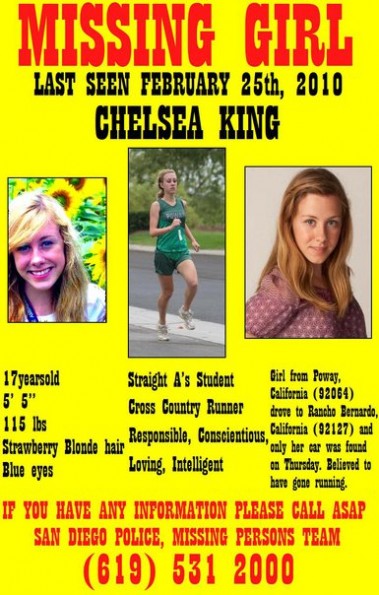 Chelsea King Description: Petite build: 5'5″ tall, 115 pounds
Strawberry blonde hair, Blue eyes, 17 years old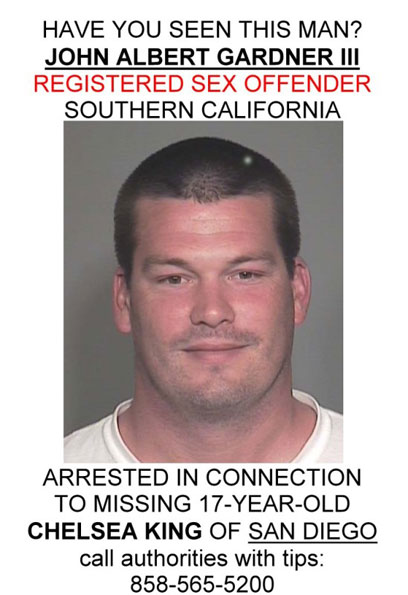 Suspect John Albert Garner 6'2″ 230 LB arrested Sunday afternoon.
More info …
CHELSEA KING SEARCH CENTER
FINDCHELSEA.COM
FACEBOOK: HELP FIND CHELSEA KING: MISSING SAN DIEGO TEEN