Cook County prosecutors upgraded the charges against Daniel Levine to first-degree murder after a Cook County medical examiner ruled her death a homicide. If convicted, Levine could receive a sentence of 20 to 60 years in prison. Police had charged Levine with attempted murder and aggravated battery in October 2009 after he allegedly stabbed his grandmother Sylvia Lev, 86, sixteen times at her Frenchman's Cove condominium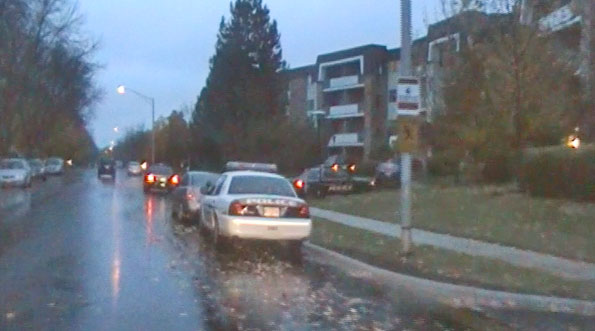 Police at the crime scene at 3300 North Carriageway in Arlington Heights where Daniel G. Levine stabbed his 86 year-old grandmother.
Suspect Caught in the 2800 Block of North Dunton Avenue
Arlington Heights police were searching the area of 3300 North Carriageway and Daniels Court on the north side of Arlington Heights after a grandson apparently attacked his grandmother on the first floor of a multi-dwelling condo/apartment style building at 3300 North Carriageway. During the attack, Daniel Levine stabbed his grandmother with a knife about 5:00 p.m. Thursday and fled the scene.


Daniel G. Levine Mug Shot Photo.
A diligent and intense manhunt by Arlington Heights police and Buffalo Grove police in October 2009 resulted in a quick capture of Daniel Levine. Fleeing suspect Daniel G. Levine, 24, was described as a male/white in his 20's, 5′ 5″ with very short hair, wearing T-shirt and jeans. His shirt had long sleeves and his pants were baggy pants. The suspect was described to have been driving a Toyota Corolla, possibly with Colorado license plates. He is was the grandson of a victim found stabbed in her condo. After his capture, Levine was charged with attempted murder and aggravated battery with a knife — both Class X felonies with sentences up to 30 years in prison.
Arlington Heights Police Activity — Buffalo Grove Police Activity
Police were searching the area of 3100 North Windsor for a suspicious person running through backyards in that neighborhood immediately after the call to rescue the 86 year-old grandmother. The suspect was seen in the backyards running toward Fleming. Police received multiple calls for a person jumping fences in the area. Police were also tracking with the Arlington Heights K-9 unit (Marco) in the area of the 400 block of Hackberry near the creek in the neighborhood Thursday afternoon, just minutes after the crime occurred. The officer with the Arlington Heights K-9 unit was tracking the suspect's scent on Hackberry, just east of Arlington Heights Road when he saw someone matching the description near Burr Oak Drive and Arlington Heights Road. The officer double-checked the description and soon the suspect was fleeing toward Henry Street and Arlington Heights Road. Several police squads from Arlington Heights and Buffalo Grove police departments converged in the area and set up a perimeter on the west side of Arlington Heights Road near Burr Oak Drive, Berkley Drive and Edgar Allan Poe School at 2800 North Highland Avenue in Arlington Heights. Police lost sight of the suspect, but soon sighted him again running through yards near Henry Street and Dunton Avenue. With guns drawn, the police ordered Levine to halt. Police had Daniel Levine in custody on Dunton Avenue, just north of East Berkley Drive by 5:40 p.m. The suspect, Daniel Levine, was immediately transported to Arlington Heights Police Department headquarters in downtown Arlington Heights.
Arlington Heights Fire Department paramedics treated the grandmother and transported her to Advocate Lutheran General Hospital Level One Trauma Center in Park Ridge. Her condition was listed as stable in the Surgical Intensive Care Unit. She later died in January 2010. Sylvia Lev, of the 3300 block of Carriage Way Drive in Arlington Heights, was pronounced dead at 9:50 p.m. Monday, January 4, 2020 at Holy Family Medical Center in Des Plaines.

View Arlington Heights Crime Blog 6/20/2009 to 6/19/2010— 3300 carriageway Drive Crime Scene in a larger map

View Arlington Heights Crime Blog 6/20/2009 to 6/19/20103300 Carriageway Estimated Suspect Tracking Path in a larger map