View North on Swift Road near Com Ed property on Google Street View
UPDATE: Pierre Wahington-Steel, 17, critically injured last week when he was in a vehicle that struck a pole near unincorporated Glen Ellyn, died Thursday — six days after the crash.
Glenbard West High School senior Pierre Washington-Steel and junior Demarco Whitley, both running backs on the Hilltoppers' football team, were seriously injured in a one-car crash with a utility pole just before 8 p.m. Friday on Swift Road north of St. Charles Road in Glen Ellyn.
Glen Ellyn Fire Department firefighter/paramedics were committed in a vehicle extrication operation for trapped accident victims at the accident scene, which was near the Great Western Trail Bike Path near Com Ed property between St. Charles Road and North Avenue. Pierre Washington-Steel was airlifted in a medical helicopter from the accident scene and transported to Level I Trauma Center Good Samaritan Hospital in Downers Grove.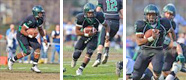 #7 Pierre Washington Steel Football Photos on MAXPREPS.COM
Original title of article …
Glenbard West Football Players Pierre Washington-Steel and Demarco Whitley Critically Injured in Crash