"Baltimore airport closed except for Bears plane. Weird to walk through an airport and not see anyone."

UPDATE: EPIC EAST COAST SNOW IS CLEANED UP TO NOTHING
AT M&T BANK STADIUM FOR BEARS-RAVENS GAME!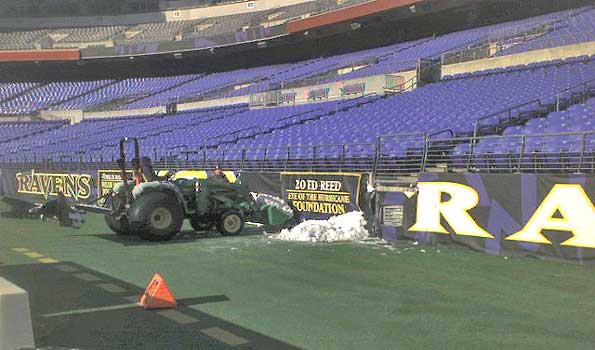 The last of the snow is cleaned up at Baltimore Ravens M&T Bank Stadium at about 1:40 p.m. ET. Sunday.

View NFL Stadiums — National Football League Stadiums in a larger map
Baltimore Raven's M&T Bank Stadium.
The Chicago Bears thought they planned ahead to beat a storm bearing down on their destination for the Bears-Ravens game Sunday. Normally the Chicago Bears would leave Saturday afternoon — the day before a Sunday football game. However, with a winter storm warning and blizzard warning alerting the east coast to a possible record snowfall, the Bears decided to push their departure flight ahead to 10:30 p.m. Friday. Players and personnel sat on their plane from 10:30 p.m. until 12:30 a.m. Saturday because the snowstorm also was ahead of schedule — and caused a flight delay for the Bears Friday night. Bears Tweets from Chicago Bears writer Larry Mayer, read on …
The Bears took from O'Hare International Airport about 8:00 p.m. CT and had a good flight to Baltimore, landing at about just before 11 p.m. ET. The charter flight for the Chicago Bears was the only flight permitted into Baltimore-Washington Internataional Airport (BWI) Saturday night, until a United Airlines redeye flight from Los Angeles arrived Sunday morning. BWI has four runways, but only one runway was open when the Chicago Bears landed Saturday night. . On Sunday morning BWI had two runways open.
Bears Official Twitter (Tweets from Larry Mayer) …


MORE INFO …
FAA FLIGHT DELAY INFORMATION MAP …
Baltimore Weather Forecast and Conditions …
Philadelphia Weather Forecast and Conditions …
Weather Underground Interactive Radar for Baltimore …
Update from Chicago Bears (official blog) …