UPDATE: EPIC EAST COAST SNOW IS CLEANED UP TO NOTHING
AT M&T BANK STADIUM FOR BEARS-RAVENS GAME!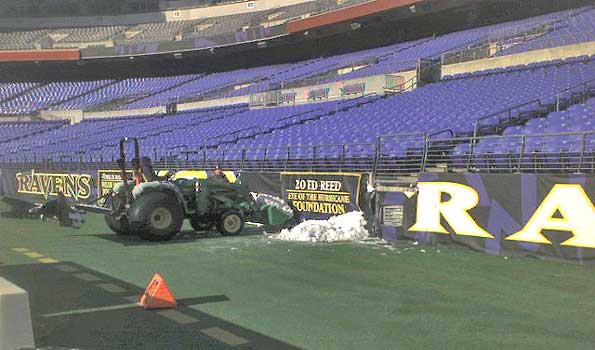 The last of the snow is cleaned up at Baltimore Ravens M&T Bank Stadium at about 1:40 p.m. ET. Sunday. Looks ready for the 4:15 p.m. ET kickoff/game start time.

View NFL Stadiums — National Football League Stadiums in a larger map
Baltimore Raven's M&T Bank Stadium.
The Chicago Bears thought they planned ahead to beat a storm bearing down on their destination for the Bears-Ravens game Sunday. Normally the Chicago Bears would leave Saturday afternoon — the day before a Sunday football game. However, with a winter storm warning and blizzard warning alerting the east coast to a possible record snowfall, the Bears decided to push their departure flight ahead to 10:30 p.m. Friday. Players and personnel sat on their plane from 10:30 p.m. until 12:30 a.m. Saturday because the snowstorm also was ahead of schedule — and caused a flight delay for the Bears Friday night.
The Bears expedition hauled back to Halas Hall, arriving at about 1:15 a.m. Saturday. So players slept in Chicagoland and will try another attempt today. Now the Bears have to consult with the airline charter and the charter's weather experts to safely get to their destination — if not Baltimore-Washington International Airport, another airport nearby. That would be an airport outside the major storm perimeter. The Chicago Bears also consult with Accu-Weather and Weather Channel experts to find the best routing and time frames.
The City of Baltimore had already urged a delay of the start time of Sunday's Bears-Ravens game from 12:00 p.m. to 3:15 p.m. The delay is necessary so that public works can clear the streets and so that fans, who would need the extra time, could still make it to the game.
Could the Bears-Ravens game start time be pushed back again, or postponed? Could the Bears get a snow plow escort from an airport a few hundred miles away from Baltimore Raven's M&T Bank Stadium? Stay tuned with Bears Twitter updates below!
Bears Official Twitter …


MORE INFO …
FAA FLIGHT DELAY INFORMATION MAP …
Baltimore Weather Forecast and Conditions …
Philadelphia Weather Forecast and Conditions …
Weather Underground Interactive Radar for Baltimore …
Update from Chicago Bears (official blog) …