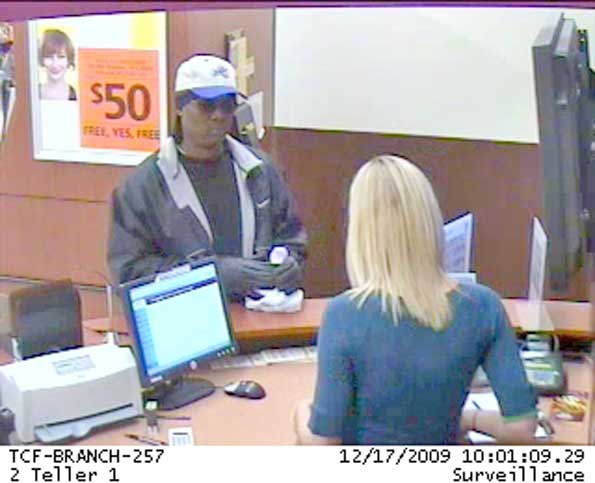 Surveillance video still frame posted on BanditTrackerCHICAGO.com Thursday, December 17 2009.*
Armed robbery at TCF Bank at Jewel-Osco at 0-100 North McHenry Road: A male/black with a gun in his pocket robbed the TCF Bank in the Buffalo Grove Jewel-Osco at about 10:00 a.m. Thursday. Three Buffalo Grove police squads were right around the corner and were on the scene within a minute. The bank robber had entered the bank and presented a demand note to the victim teller — then fled with money.
A male/black was reported fleeing in a Buick Century northbound on Buffalo Grove Road by one of the first responding police officers. Police were chasing the suspect north on Buffalo Grove Road, eastbound on FoxHill — passing Highland Grove at about 10:05 a.m., and northbound on Weiland Road (Lake County Highway 73).
The pursuit proceeded northbound Weiland until the suspect crashed his car at Aptakisic Road. The offender's crashed car at that location took out a fence and a light pole.
The suspect in custody at about 10:08 a.m. The suspect was caught with a dye pack in his pocket. Anthony Singletary, 37, of the 400 block of Gregory in Glendale Heights, was arrested at the scene — a charge of armed robbery expected. The accident scene was secure at 10:10 a.m.
View
Buffalo Grove Crime 2009
in a larger map
Approximate pursuit route of Buffalo Grove police chase with TCF bank robber.
Buffalo Grove Fire Department firefighter/paramedics responded to check on injuries of the suspect in the crash.
Buffalo Grove police and FBI agents investigated the crime scene at the bank.
BanditTrackerChicago.com (presented by the FBI, Chicago Police Department, Cook County Sheriff's Police, other law enforcement agencies and partners in the banking industry) is reporting that today's offender also robbed the following banks …
TCF Bank, 652 Kirk Road, St. Charles, IL on December 5, 2009
TCF Bank, 423 East Dundee Road, Palatine, IL on November 30, 2009 (see The Cardinal )
TCF, 423 East Dundee Road, Palatine, IL on May 16, 2009
TCF, 652 Kirk Road, St. Charles, IL on 4) April 24, 2009
View Larger Map
Google street view of the Jewel-Osco at 79 North McHenry Road in Buffalo Grove.
*The Cardinal: A guilty ruling and the identity of the subject imaged has not yet been confirmed in a court of law at the time of filing of this article.