RIO 2016 official website header minutes before announcement that Rio will be the host city for the 2016 Olympics. The selection marks the first time the Olympics will be held in the continent of South America.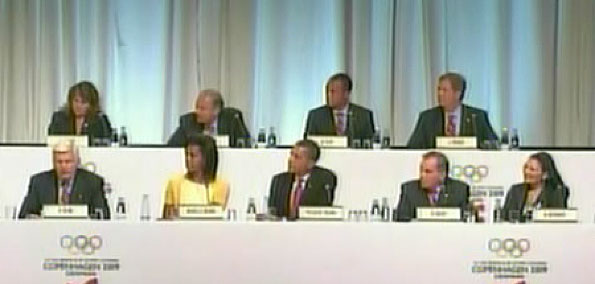 What city will host the 2016 Olympics? Selling Chicago for the IOC decision of Chicago, Rio de Janeiro, Madrid or Tokyo?

CHICAGO ELIMINATED FIRST ROUND
What time is the Olympics 2016 announcement — the result of the selection of the host city for the Summer Olympics in 2016? — WATCH IT LIVE HERE — UNIVERSAL SPORTS TV — UNIVERSALSPORTS.COM
While most Chicagoans were sleeping very early Friday morning, President Barack Obama, Michelle Obama and others were selling their hometown Chicago as the best site for the 2016 Olympics.
Obama promoted Chicago's existing international character in neighborhoods like Greektown and the Ukrainian Village. President Obama and the First Lady will be on their way home from Copenhagen on Air Force One when the announcement is made just before noon Chicago time (CDT).
What time is the announcement for the International Olympic Committee's selection of the host city for the Summer Olympics 2016?
Olympics Announcement: Between 11:30 a.m. and noon (CDT) on October 2, 2009.
"The games of the 31st Olympiad are awarded to the city of …"
Olympic Rally and Host City Announcement Live Viewing at Daley Plaza
On Friday, October 2, the International Olympic Committee will choose the Host City for the 2016 Olympic and Paralympic Games. The City of Chicago welcomes people to join the excitement at an Olympic rally and live viewing of the announcemnt in Daley Plaza at 50 West Washington Street in Chicago.
Daley Plaza
50 W. Washington St.
Chicago, IL 60602
Most cable news networks and local Chicago networks will be carrying the event live, as well.