The annual Downtown Trick or Treat event will be held on Friday, October 30, from 3- 6 p.m. at participating stores in the Downtown area. Children are encouraged to dress in their costumes for the event. Children should be accompanied by an adult. Arlington Heights police assist with safe walking across crosswalks at intersections downtown.
Halloween falls on Saturday October 31, 2009 this year. Arlington Heights has no set rules for Halloween Trick or Treat scheduling in neighborhoods.
The Arlington Heights Park District will hosted its annual "Trunk or Treat" event on Friday, October 23, from 6:30 – 8:30 p.m. at the Arlington Heights Public Works building, 222 N. Ridge Ave.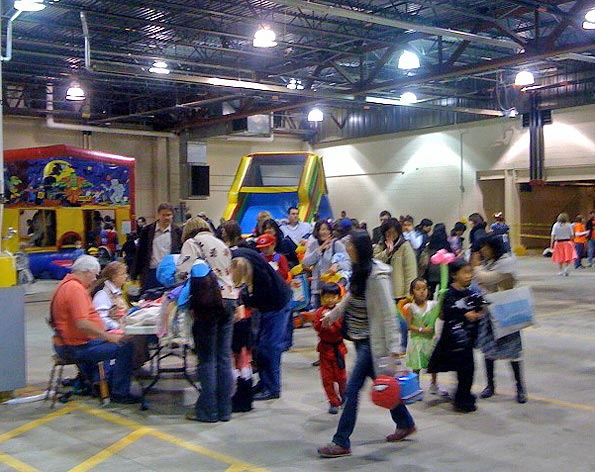 'Trunk or Treat' at Arlington Heights Public Works facility last Friday night.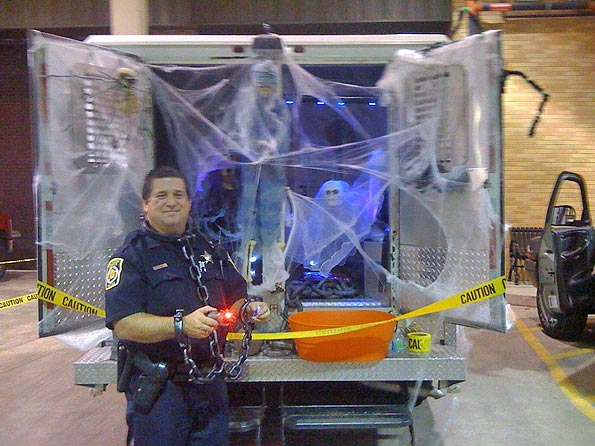 Arlington Heights Police Department Prisoner Transport Vehicle with officer Doug Hajek managing some spooky prisoners.
Trick or treat was encouraged from vehicle to vehicle inside the Public Works Garage. Businesses and organizations decorated their vehicles and trunks and provide some "Halloween Handouts." Many interesting costumes were seen at this great event for kids.
Weather Forecast for Chicago Halloween …
Arlingtoncards.com/weather