Chicago 33.1°F at 6:51 a.m.
Chicago Executive Airport in Prospect Heights/Wheeling 32°F at 6:52 a.m.
Rockford 28.0°F at 6:54 a.m.
Kenosha, WI 27.0°F at 6:53 a.m.
Champaign 32.0°F at 4:53 a.m.
First to freeze for Fall 2009 from The Cardinal sample was Champaign, Illinois — surprisingly — at 4:53 a.m. The boonies hit the freezing point for a short time Saturday morning. No frost visible in Arlington Heights. If you saw frost in the area, let us know in the comments section below …
The night sky was crystal clear last night … stars very bright even with a bright moon.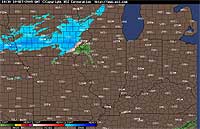 Snow on our western neighbors' radar.
From Intellicast current radar at 9:45 a.m. CDT