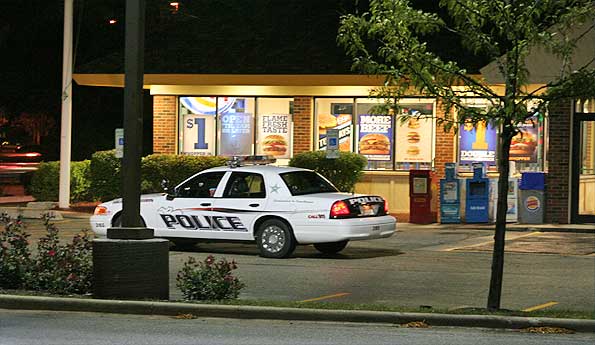 Inside a Burger King, an Arlington Heights police officer searches the restaurant and canvasses any potential witnesses of the armed robbery, next door at the Best Buy parking lot.
Arlington Heights police received a report about 8:05 p.m. Monday that an armed robbery occurred in the parking lot of Best Buy, 615 East Palatine Road in Arlington Heights.
One of the offenders displayed some type of badge and implied that a gun would be used to shoot the victim if the victim did not comply to a demand for cash.
The first offender was described as a male/white, age 23, wearing a gray hoodie. The first offender was reported to be 6-1 with facial hair … a goatee.
The second offender, a male/white was wearing a black T-shirt and blue jeans … One or both offenders were last seen running toward the Burger King, just east of Best Buy.
The offender took fifteen $100 bills and the victim's iPhone.
One of the subjects may have dropped his own cell phone and the victim and police might have the cell phone.
The victim, a male in his 20's or 30's, may have been in the parking lot for a meeting arranged over Craigslist for an exchange of cash for gift cards.
SIMULATED CRAIGLIST LISTING

Hello,

If anyone is looking to make make a deal, I have a $XXXX in gift cards to a MAJOR STORE that I will sell for $XXXX! Save yourself XX bucks! We can verify the amount if you are serious. If there are any questions please let me know. Thanks for looking!

[NAME OMITTED]
There are many listings on craigslist similar to the simulated listing above. Some listings are seeking gift cards for cash, and some listings are seeking cash for gift cards. Many of the meetings are requested at the store, because the seller offers that the gift cards can be verified at the store.
SECOND EXAMPLE GIFT CARD SALE

I have three $100 gift cards from MAJOR STORE that I have no use for. I will sell for following and can meet at any MAJOR STORE SPECIFIED in downtown area.

$100 gift cards for $90 each (10% off)
or
All three totaling $300 for $255 (15% off).

Let me know if interested.

Thanks much,
SIGNER
The Arlington Heights police transported the male victim to the Arlington Heights Police Department headquarters for further investigation. It is unknown if any arrests were made Monday night.