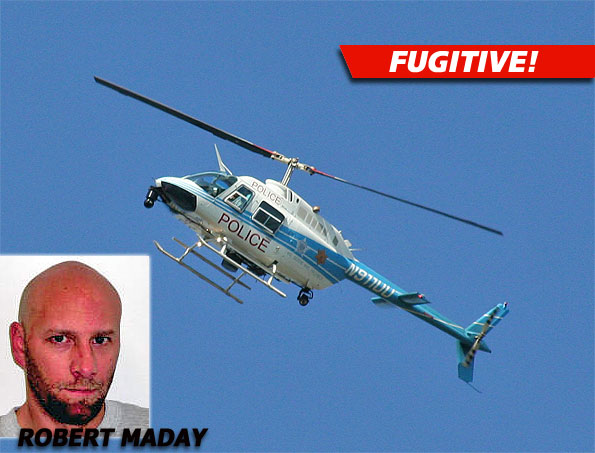 Cook County Sheriff's Police Helicopter 'AIR 2' and Robert Maday photo inset. The Bell Rotorcraft 206B is owned by the Chicago Police Department and is operated by Cook County Sheriff and Chicago PD.
After a several sightings and searches, lockdowns, evacuations, and a restricted perimeter around an apartment unit for about five hours Thursday; Robert R. Maday is still at large — armed and dangerous.
The offender apparently managed to disarm State's Attorney's Investigators that were transporting him to jail and fled on foot with their weapons — running toward the Meijer store, just east of Continental Towers. The offender then apparently carjacked a black Mazda CX-9 SUV and fled in that vehicle. He was last seen in the vehicle northbound in the Meijer parking lot. He traded clothes — leaving an orange shirt and pair of pants for a Cook County State's Attorney investigator and keeping the investigator's black Docker pants for himself. Maday may also have been wearing a black, sleeveless vest.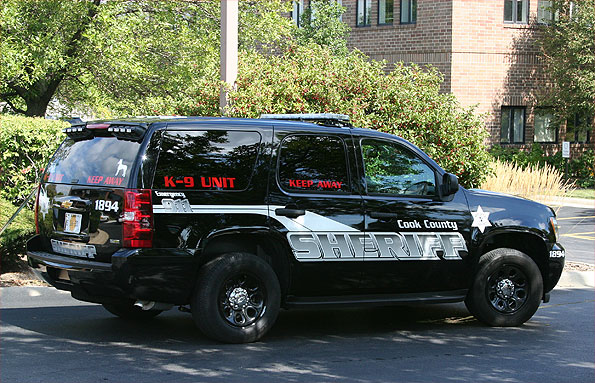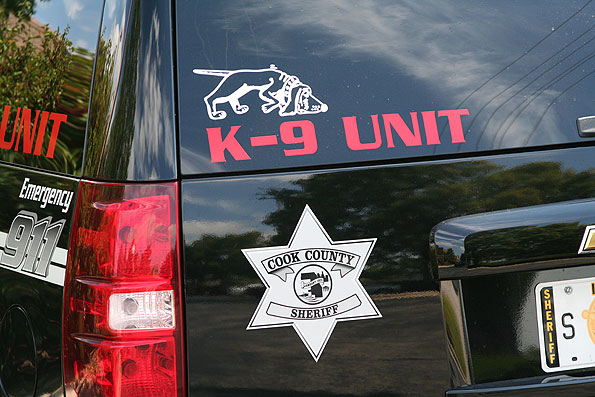 Cook County Sheriff K-9 Unit brought out a Bloodhound to help search for Robert Maday.
Initial K-9 units tracking went cold, but a third Bloodhound may have tracked a scent to an apartment unit.
Born in May 1970. Robert Maday is described as 5'9″ 165 pounds, bald, or with with gray, short hair, and green eyes.
He may be wearing a white NCAA white baseball cap and white T-shirt or alternatively blue jeans.
Suspect may have had a handcuff key.
Guns acquired by Robert Maday while overpowering State's Attorney's Investigators.
A blue steel .38 special Chief's special Smith & Wesson special revolver, and a blue steel H& K .40 caliber semi-automatic pistol.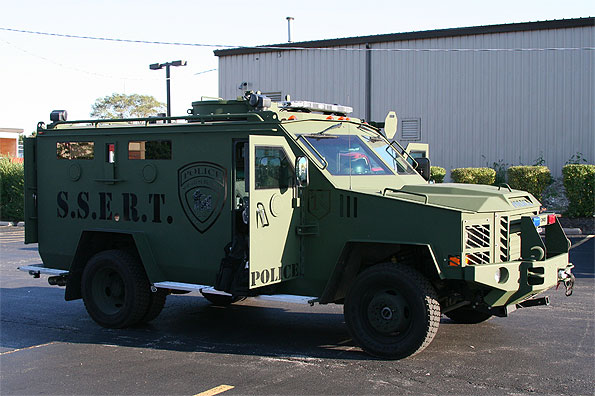 Armored Personnel Carrier from the South Suburban Emergency Response Team (SSERT) that carried SWAT members close to the apartment where police needed to check to see if an armed and dangerous fugitive, Robert R. Maday, may have been hiding.
Apparently since the fugitive was in the custody of Cook County investigators before the escape, the Cook County Sheriff took responsibility for the expense of the SWAT operation. SSERT works closely with Cook County Sheriff's Deputies.


Falcon Drive blocked during the search and restricted perimeter manhunt for Robert Maday.