STEMI is the acronym for ST-segment elevation myocardial infarction or heart attack, which is defined as a heart attack that involves a prolonged blocked blood supply to a large area of heart muscle. The condition causes an elevation of the ST segment of the victim's electrocardiogram.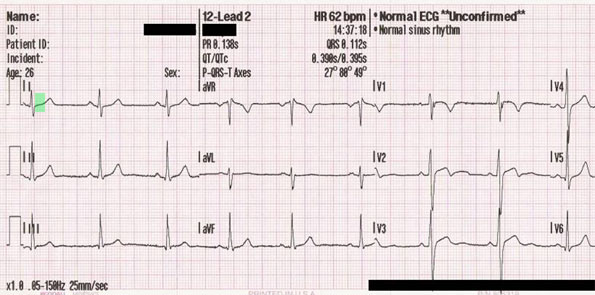 Normal electrocardiogram (EKG) with normal ST segment shown with bright green rectangle (upper left).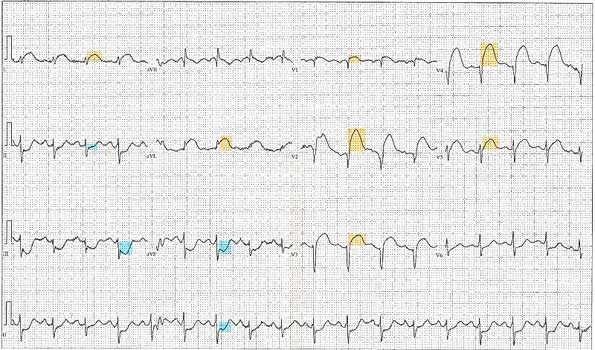 12 Lead ECG EKG showing ST Elevation (STEMI), Tachycardia, Anterior Fascicular Block, Anterior Infarct, Heart Attack. Color Key: ST Elevation in anterior leads = Orange rectangle, ST Depression in inferior leads = Blue rectangle.
The Emergency Medical Services (EMS) provided by Arlington Heights Fire Department initiated in 1972 utilizes highly trained paramedics with sophisticated technology and advanced protocols. Paramedics are capable of providing oxygen, IV access, sublingual nitroglycerine, morphine, and aspirin, endotracheal intubation, CPR and defibrillation. Paramedics are also capable of providing thrombolytic therapy in the prehospital setting. For about five years Arlington Heights firefighter/paramedics have been capable of providing the 12-lead EKG for identification of STEMI, and the activation of an alert system to activate the cardiac catheterization lab and staff.
Paramedics can play a key role in reducing the time from paramedic response on scene to the time to deliver a patient to a facility for percutaneous coronary intervention or coronary angioplasty, which is emerging as the preferred therapy for ST segment elevation myocardial infarction. By performing a 12 lead ECG in the field and using information about the ST segment, patients are triaged to the most appropriate medical facility.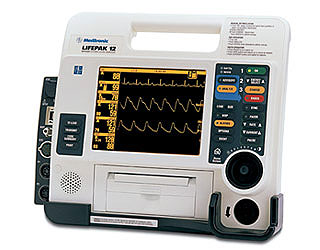 Physio-Control LIFEPAK® 12 Defibrillator/Monitor
The Arlington Heights Fire Department currently uses a LIFEPAK 12 Defibrillator/Monitor to identify STEMI. The unit, which costs about $25,000 and is available on all Arlington Fire Department ambulances, uses a computer to continuously monitor for ST elevation. When the conditions exist identifying a STEMI heart attack, usually a cardiac cateterization team is alerted at Northwest Community Hospital. If the team is not available at Northwest Community Hospital (named as one of the 100 Top Hospitals for Cardiovascular Care 2008 by Thomson Reuters), the Arlington Heights Fire Department ambulance bypasses 'Northwest' to another hospital with a team that can be activated.
Paramedic systems vary considerably in their ability to evaluate and treat patients with suspected acute myocardial infarction. Recently the Chicago Tribune identified a Journal of Emergency Medical Services study that reports that the City of Chicago is the one of 34 major U.S. cities in 2009 that does not have STEMI protocol equipment.
Chicago Fire Department takes heart attack patients to the closest hospital, regardless of its cardiac treatment capability. Only about half of Chicago's hospitals can perform 24/7 the preferred treatment for STEMI heart attacks — cardiac catheterization or balloon angioplasty.
See also …
Northwest Community Hospital | Heart Care