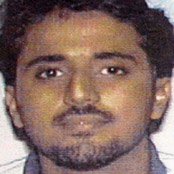 'Jafar the Pilot'
Adnan Gulshair el Shukrijumah
MAY BE USING A SAUDI PASSPORT
After September 1, 2001, five-foot-four Adnan Gulshair el Shukrijumah was selected by Osama bin Laden to be the terror group's next Mohamed Atta for any second wave of attacks on America.
The Saudi-born el-Shukrijumah was the son of a radical Muslim cleric who moved his family to U.S. in 1985 and settled eventually in Miramar, Florida, a Fort Lauderdale suburb. There he became friends with José Padilla, who was later arrested as an "enemy combatant," and also with Mandhai and Shueyb Mossa Jokhan, who were jailed for plotting to blow up Florida power plants, a National Guard armory, and Jewish businesses. Adnan attended flight schools in Florida and Oklahoma, and was dubbed Jafar al-Tayyar ("Jafar the Pilot") within al Qaeda .
After identifying him, the U.S. government put a $5 million reward on his head. In 2004, Attorney General John Ashcroft and FBI Director Robert Mueller named Adnan as one of seven al Qaeda members planning terrorist attacks for that summer or fall. Ashcroft alleged that Adnan had personally scouted targets in New York City and the Panama Canal. In 2007, the New York Post broke the news that Adnan was "al Qaeda's operations leader on a nuclear terror plot targeting the United States" stating that bin Laden had picked him "to detonate nuclear bombs simultaneously in several U.S. cities."

'Jafar the Pilot' — his real name given up via waterboarding, name found on scraps of paper, picked by Osama Bin Laden to lead the American Hiroshima –simultaneous nuclear attack on America.
See more …
THE DAILY BEAST: Mohamed Atta's Successor by Gerald Posner
MORE ON PADILLA …
José Padilla Padilla was arrested in Chicago 'at O'Hare International Airport on May 8, 2002, and was detained until June 9, 2002, as a material witness of the September 11, 2002 attacks. President George W. Bush designated him an illegal enemy combatant and transferred him to a military prison — arguing that he was thereby not entitled to trial in civilian courts. Padilla was held for three-and-a-half years on suspicion of plotting a radioactive "dirty bomb" attack — an "enemy combatant" — after his arrest in 2002 . That charge was dropped and his case was moved to a civilian court after pressure from civil liberties groups.
On August 16, 2007 – after only a day and a half of deliberations — the jury found Padilla guilty on all counts (conspiracy to murder — punishable by life imprisonment — dismissed also on August 16, 2006; conspiracy to materially aid terrorists/defraud the United States under 18 U.S.C. § 371; and conspiracy to materially aid terrorists under 18 U.S.C. § 2339A ). He was scheduled to be sentenced on December 5, 2007, but his sentencing was postponed to January due to the death of a family member of the judge scheduled to sentence him. On January 30, 2007, the Court of Appeals for the 11th Circuit reversed the 'conspiracy to murder' dismissal ruling and reinstated a charge of conspiracy to "murder, kidnap, and maim. On January 22, 2008, Padilla was sentenced by Judge Marcia G. Cooke of the United States District Court for the Southern District of Florida to 17 years and four months in prison. Padilla's sentence is currently being served at ADX Florence "Supermax" prison in Florence, Colorado.