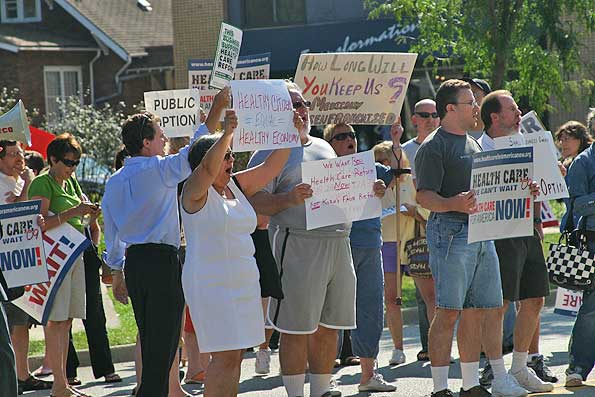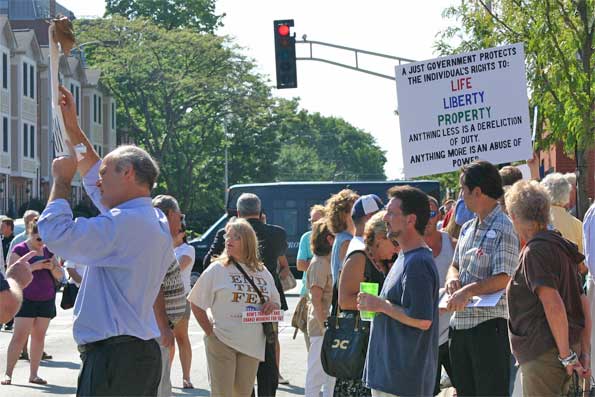 It was Obama's health care supporters on the south side of Sigwalt Street and those against the single payer system and the public option on the north side at the curb.
To preview … there was a lot of peaceful shouting between people who were waiting for Session Two of Mark Kirk's Town Hall meeting at Arlington Heights Village Hall. The meeting that was scheduled for 3:00 was filled to capacity, so a second Town Hall meeting was scheduled by Representative Mark Kirk (R-IL) for 4:30 p.m. The arrangement left time for some vigorous discussions and chanting in the street on Sigwalt in front of Arlington Heights Village Hall, 33 South Arlington Heights Road.

A man cites signs that the health care industry is in trouble: The uninsured, health care inflation, malpractice, health care for illegal immigrants. A woman counters that 'throwing out a system that works for 85 percent of the people is not necessarily the best solution' — gives an example in Costa Rica of four doctors for 80,000 people.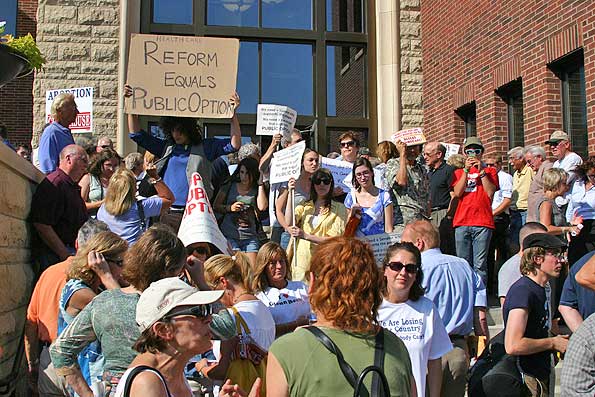 Front steps outside Mark Kirk Health Care Town Hall at 33 South Arlington Heights Road — Village Hall Arlington Heights, Illinois.
ABC7 WLS-TV report …>
Representative Mark Kirk has come under criticism by Republicans for voting for 'Cap and Trade' or emissions trading (American Clean Energy and Security Act". HR2454, June 26, 2009), which involves a central government or international authority limiting the amount of pollution that can be emitted. Active trading programs include the European Union Emission Trading Scheme and and the Chicago Climate Exchange where U.S. corporations are able to trade CO2 emission allowances under a voluntary scheme. In August 2007, the Exchange announced a mechanism to create emission offsets for projects within the United States that cleanly destroy ozone-depleting substances. A carbon offset is a financial instrument aimed at a reduction in greenhouse gas emissions. Carbon offsets are measured in metric tons of carbon dioxide-equivalent (CO2e) and may represent six primary categories of greenhouse gases. One carbon offset represents the reduction of one metric ton of carbon dioxide or its equivalent in other greenhouse gases.
In the trading schemes there are two markets for carbon offsets. In the larger compliance market, companies, governments, or other entities buy carbon offsets in order to comply with caps on the total amount of carbon dioxide they are allowed to emit. In 2006, about $5.5 billion of carbon offsets were purchased in the compliance market, representing about 1.6 billion metric tons of CO2e reductions. In the much smaller voluntary market, individuals, companies, or governments purchase carbon offsets to mitigate their own greenhouse gas emissions from transportation, electricity use, and other sources. For example, an individual might purchase carbon offsets to compensate for the greenhouse gas emissions caused by personal air travel. In 2008, about $705 million of carbon offsets were purchased in the voluntary market, representing about 123.4 million metric tons of CO2e reductions.
Critics of the American Clean Energy and Security Act claim that the legislation will not benefit the environment, and that it is only designed to redistribute wealth — with a side effect of further destroying the U.S. economy by costing more jobs and further increasing energy costs. Kirk critics, who call him a RINO (Republican In Name Only) claim he voted for American Clean Energy and Security Act to get the predominantly liberal Chicago vote when he runs for Obama's old Senate seat in 2010. Many of Kirk's critics used the streets in front of the Health Care Town Hall and the Internet forums regarding the Town Hall to remind people of Kirk's vote and his 'RINO' status.