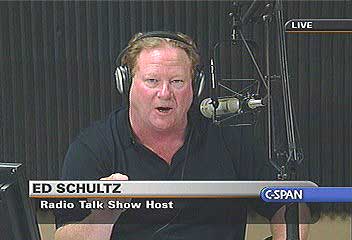 Ed Schultz is making a plea to conservative Democrats to voice their opinion in support of full reform of health care. He wants a strong public option. He says he knows. He's an expert. He's been to the townhalls and seen the people's eyes. He's an expert in politics. In yesterday's radio show "The Ed Schultz Show" he said President Barack Obama must act from his guts like he did at the Fort Collins, Colorado town hall when he spoke from the heart about 'his mother's' death last summer. The president's mother, Ann Durham, died in 1995. Barack Obama's maternal grandmother, born in 1922 and died last year on November 2, 2008.
Today Schultz exclaimed, "If Obama can't draw a line in the stand, and stand up to Republican opposition … he doesn't deserve the support of the left … and he needs to realize it won't be there."
Schultz predicts that if Obama caves in and doesn't stay strong on reform, the left will abandon him.
"Liberals will have no stomach for supporting Obama and Democratic candidates in the mid-term if they can't show a spine and demonstrate they support the very people who put them in office."

"The White House is living in a vacuum if they think liberals aren't serious about dropping support for Obama. How are liberals expected to support people in the Democratic Party that say one thing on the campaign trail and reverse course when they get to Washington?"

— Ed Schultz
On the first 90 minutes of the radio show, Schultz said nothing about why the public option and the single payer system is better. Too much energy of his was wasted on braggadocio, ridicule and laughing at his own jokes. At this show's episode, he focused on his self-perceived power and authority to tell the White House how it is and what should be done. He also spent a considerable time bragging about his own media stature compared to Lou Dobbs and Glenn Beck.
Schultz describes himself a "progressive liberal" and a "progressive independent." He used to make fun of the homeless, until he became aware in the late 1990's that many of the people he insulted were veterans. At that point he met a psychiatric nurse who would become his wife, who changed his views on poverty and politics. He gradually changed from conservative to 'progressive liberal.'