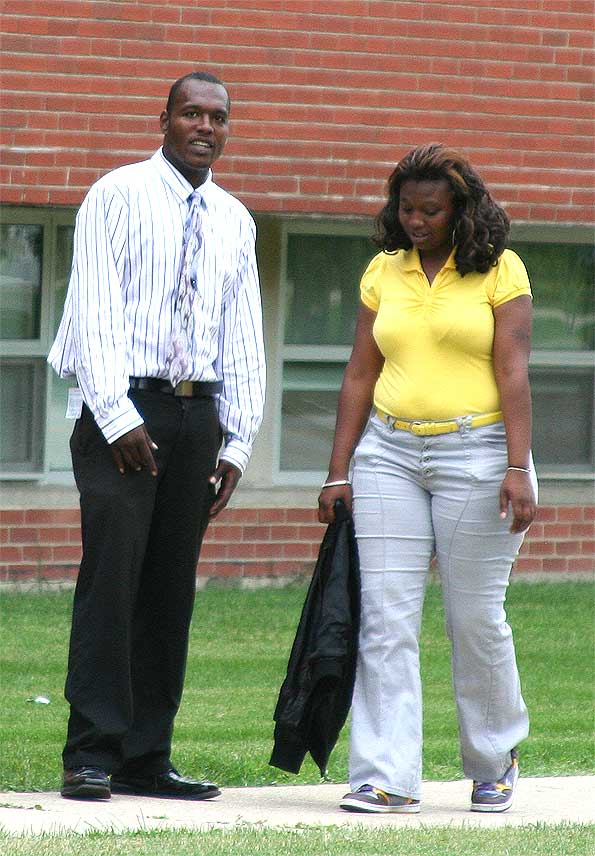 Standing near Thomas Middle School: A male solicitor that was reported to be acting aggressively and suspiciously on July 2, 2009. The female was associated with the male, but she was not reported to police.
++++++++++++++
UPDATE (July 2, 2009 8:40 p.m.)
Arlington Heights police received a report about 8:40 p.m. that a male/black in a green long-sleeve shirt came to the door three times, and claimed that the homeowner was a racist because the homeowner would not buy what he was selling. The solicitor was last seen driving a white van southwestbound on Mayfair from Beverly Lane.
++++++++++++++
Arlington Heights police received several calls between 2:15 p.m. and 6:00 p.m. for one or more suspicious solicitors near Belmont Avenue and Thomas Avenue, also in the 2000 block of North Walnut Avenue, and the 300 block of North Dryden Place.
The magazine solicitor, shown in photos, apparently persisted by harassing one resident after the resident said 'no' to the solicitation and had closed the front door. The black/male about six feet tall jumped up and down to look into some windows that were located at the very top of the front door to the resident's house. He also continued to try to talk to the resident by yelling through the door.
Minutes later a second homeowner called police to report the same door-to-door salesman acting offensively and sarcastically after offers for products were refused. The solicitor left the property, displaying his middle finger several times at the homeowner, as he exited the property along the driveway. He exclaimed that he didn't understand why "nobody would buy his stuff."
Arlington Heights municipal code states that … Any solicitor or peddler who has gained entrance to any residence, whether invited or not, shall immediately and peacefully depart from the premises when requested to do so by the occupant.
The best description of one suspect was a male/black, about 6 feet tall, wearing black dress pants, a white shirt, and a blue tie. The subject on 2000 block of Walnut Avenue and the 300 block of Dryden Place was also described as a male/black with a white shirt and dark slacks.
Several neighbors had reported persistent door-to-door sales crews working their neighborhood in the last two weeks.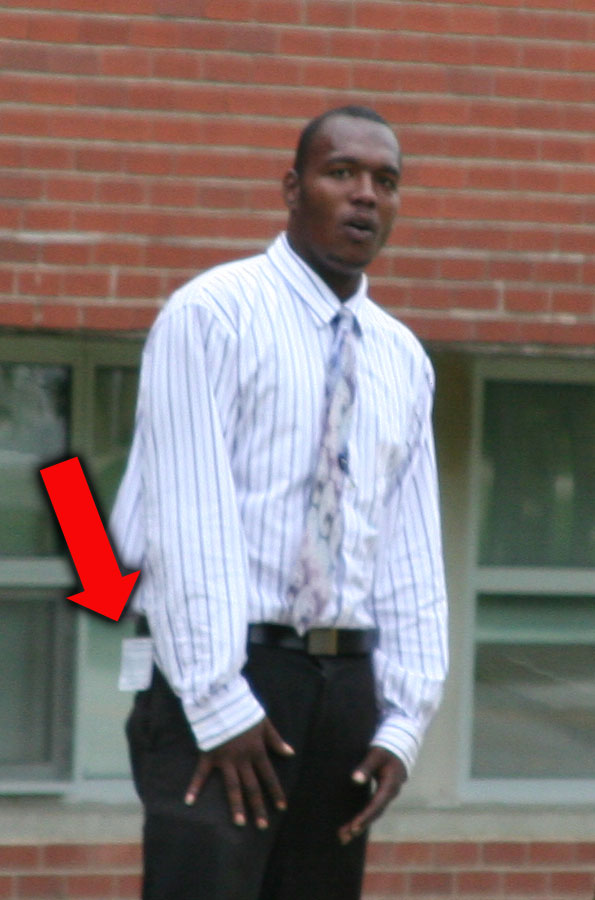 Solicitor with apparent permit on his belt: No person is allowed to engage in the business of a peddler or solicitor without first having obtained a permit. Solicitation and tag days are limited to two successive days. The location of the permit made it impossible to see the solicitor's name or any other identification.
Arlington Heights police found the solicitor on Belmont Avenue and determined that he had a solicitor's permit from the Village of Arlington Heights. No arrests and no orders to cease action were made by the police.
Police in Buffalo Grove and Arlington Heights have had several calls of solicitors or suspicious people looking in windows while walking through neighborhoods in the last few days.
Read more on the common tactics, conditions, criminal characteristics related to the business of solicitors and door-to-door sales crews …
The Cardinal: Arlington Heights Door to Door Solicitors, Traveling Sales Crews and Crime