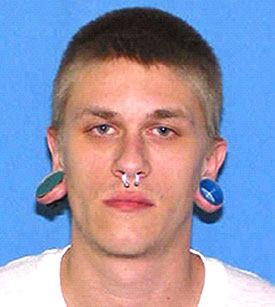 Criminal defacement to property suspect
Sean M. Dudczak or Mount Prospect
Mount Prospect Police Department News Release …
Sean M. Dudczak, 22, of the 1100 block of Boxwood Drive in Mount Prospect was arrested Thursday, July 9, 2009. He was charged with four counts of criminal defacement to property, involving graffiti at AMC movie theater, Buffalo Wild Wings, Jewel/Osco and Steak 'n Shake, just north of Randhurst Shopping Center at Elmhurst Road (Route 83) and Euclid Avenue in Mount Prospect.
It is unknown if he is responsible for crimes in Arlington Heights, such as graffiti at Rand Road and Camp McDonald and other locations along Camp McDonald in Prospect Heights. Mount Prospect police are investigating.