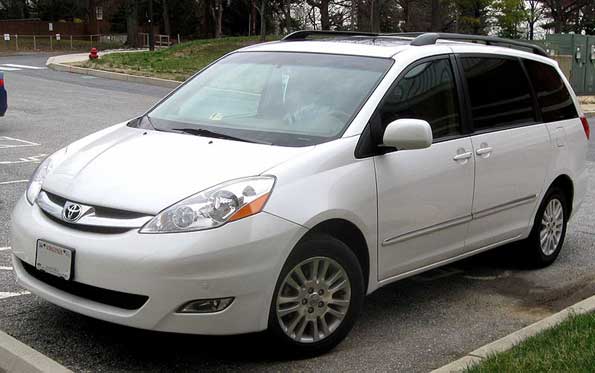 Toyota Sienna similar to suspect's vehicle (file photo).
AMBER ALERT CANCELED AT 7:00 AM
AMBER ALERT from Plano, Illinois issued about 4:45 a.m. Thursday.
THE PLANO POLICE HAVE A CONFIRMED CHILD ABDUCTION THAT OCCURRED IN THE 500 BLOCK MAY ST.
RHEANNON A JERMAN,IS A FEMALE WHITE,3YR OLD, 2 FEET 9 INCHES, 40 POUNDS, BLOND HAIR, BLUE EYES AND WAS LAST SEEN WEARING A MULTI-COLOR TANK TOP, BLUE SHORTS
MISSING SINCE 7PM ON 07/01. SUSPECT IS THERESA A HARSKEY, FEMALE WHITE, 40, 5 FEET 4 INCHES, 120 POUNDS, HISTORY OF DRUG USE
VEHICLE IS A WHITE 2008 TOYOTA SIENNA VAN, LIC/X843792. ANYONE WITH INFORMATION SHOULD CALL 9-1-1 AND ADVISE THEY HAVE AN AMBER ALERT REPORT.
THIS CONCLUDES THIS AMBER ALERT ISSUED BY THE ILLINOIS STATE POLICE.