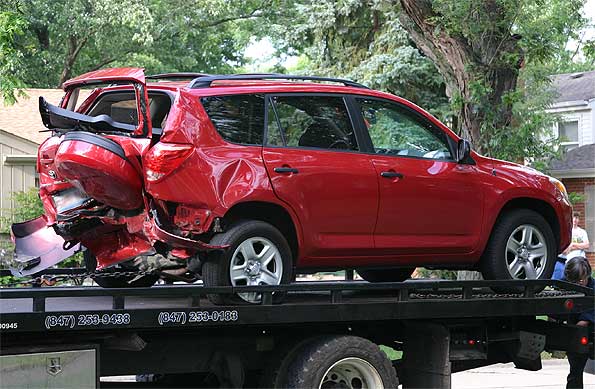 Red Toyota RAV sits on a Hillside flatbed tow truck after the truck was rear-ended by a DUI driver.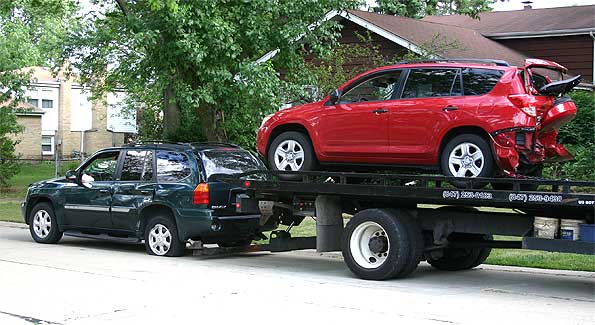 Hillside Towing gets ready for a double tow: GMC Envoy and Toyota RAV — both hit by a DUI driver.
Arlington Heights police and fire units responded to a 5-car accident at Arlington Heights Road and Pickwick Road at about 5:10 p.m. Monday. Five cars were spread over all four lanes of traffic northbound and southbound after the accident. At least one woman was injured after striking the dashboard and steering wheel from the force of impact of the crash.
According to witnesses, a driver of a black Honda Accord, that was arrested for DUI after the accident, was driving northbound when it struck a red Toyota RAV that was waiting to turn left onto westbound Pickwick Road. The northbound Accord then grazed a southbound GMC Envoy. Two other cars were also struck during the accident, leaving five cars blocking the two northbound and two southbound lanes of Arlington Heights Road at Pickwick Road.
The intersection and roadways were cleared by 5:50 p.m. Southbound Arlington Heights Road was backed up to about Central Road during accident scene operations.

View Arlington Heights Crime Blog 6/20/2009 to 6/19/2010 in a larger map