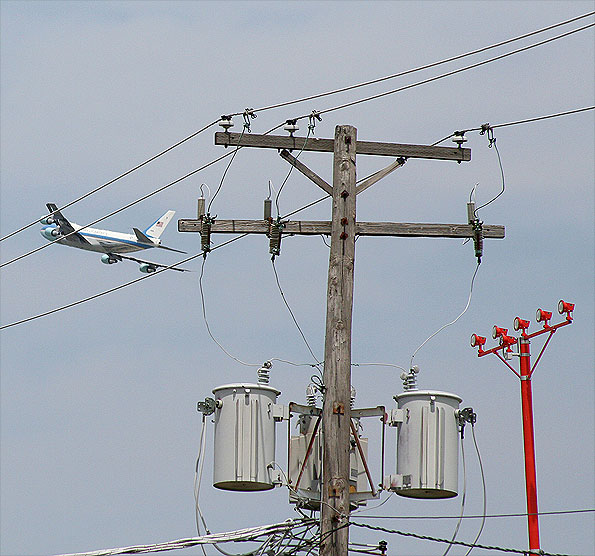 Air Force One takes off from Chicago's O'Hare International Airport with a utility pole and approach lights in the foreground northwest of the airport.
President Barack Obama, scheduled to land about 10:20 a.m., touched down about 10 minutes early at O'Hare International Airport and flew by helicopter to downtown Chicago for a speech on health-care reform at the American Medical Association annual conference at the Hyatt Regency Chicago. Many doctors oppose any Medicaid-like expansion of government involvement in health care. Protesters on both sides of the issue of "not enough" socialized medicine and "too much" socialized medicine were expected to be waiting for the president's guest appearance, but many of the protesters had other issues to protest.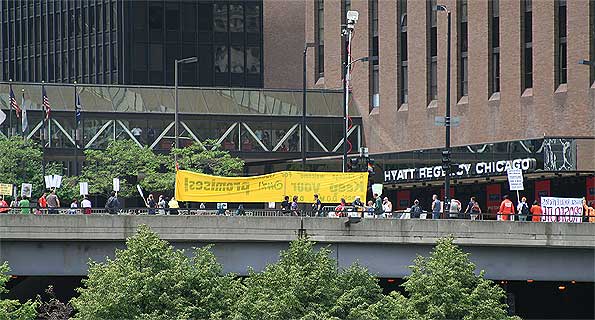 A low turnout of protesters were in front of the Hyatt with banners, including: pro-life anti-abortion signs and photos, a large yellow sign that said "Keep your 0#x! promises!," "Release Torture Photos, PROSECUTE," "Bring the TROOPS Home NOW!" and "NO MORE US TAX $$$ ISRAELI OCCUPATION."
Health care is expected to dominate the congressional calendar this summer ahead of Obama's goal of health care reform passage this fall. In the speech Obama called the nation's health care system a "ticking bomb for the budget that could force America to "go the way of GM" without a legislative fix. Illustrating that it is a shame that Americans fill out paper forms over and over again for health care providers, and said the medical system should computerize Americans' health records. "As Newt Gingrich has rightly pointed out — and I do not quote Newt Gingrich that often," said the president, prompting some laughter from the audience, "we do a better job tracking a FedEX package in this country than we do tracking a patient's health records."
Obama was booed by doctors when he mentioned he would not put a cap on medical malpractice case awards. But he received an ovation when he said: "You did not enter this profession to be bean-counters and paper-pushers. You entered this profession to be healers—and that's what our health care system should let you be."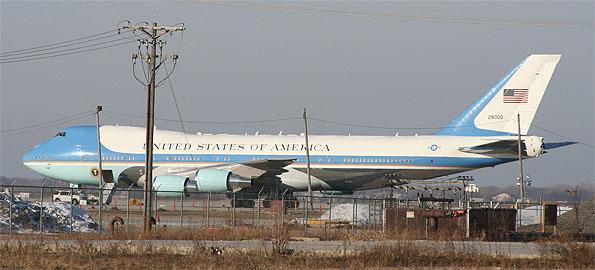 Photo of Air Force One as it sat on a tarmac at O'Hare International Airport Sunday morning after Valentine's Day 2009, which was President Barack Obama's first trip back to Chicago after his inauguration.
The visit was Obama's second trip to Chicago since the inauguration. Obama's last visit to Chicago was in February for a Valentine's Day weekend. After landing around 10:20 a.m. today, he was flown by a White House Military Office helicopter "Marine One" to a landing zone south of downtown Chicago. A motorcade brought him to the hotel conference. Obama was in the city just over two hours. His departure for a return flight to Andrews Air Force base was about 12:45 p.m.
You can check the president's schedule every day on the White House Channel on The Cardinal at arlingtoncardinal.com/category/videos/white-house-channel.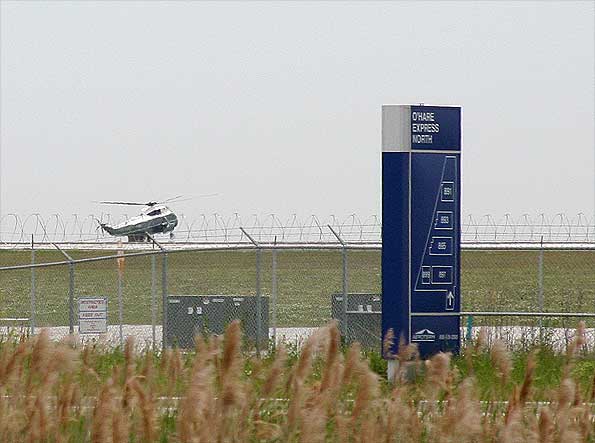 Marine One lands at O'Hare on June 15, 2009. An entourage and escort with five total helicopters flew to Chicago's south side. A motorcade brought President Barack Obama to the Hyatt Regency.