A review of the audio of the 9-1-1 call for help for 50 year-old Michael Jackson reveals that the doctor's performance of CPR (cardio-pulmonary resuscitation) may not have been optimal for the emergency care of Michael Jackson. Also, his knowledge of the Emergency Medical System access via 9-1-1 may not have been optimal.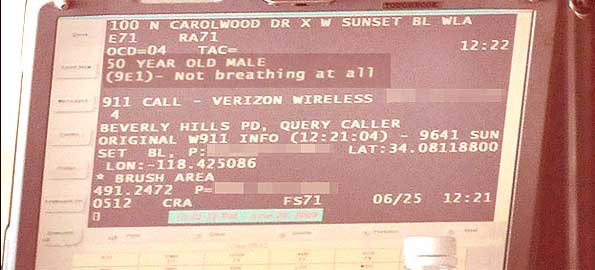 AUDIO: 9-1-1 Call for Help for Michael Jackson …
First issue: According to the 9-1-1 audio, the CPR was being performed on a bed. Most bed mattresses are too soft to allow effective chest compressions during CPR. With a mattress, each chest compression attempt moves the whole body by depressing the whole upper body into the mattress, instead of compressing the heart effectively inside of the chest on a sturdy, unyielding floor. If the bed was exceptionally firm, the doctor is not at fault. But if the mattress is like most beds, there could be some fault here.

Second issue: The doctor doesn't cooperate with the 9-1-1 Call Taker when he attempts to find out if the presumed cardiac arrest was a witnessed cardiac arrest. A doctor with sharp emergency skills would be willing to report the cardiac arrest as a witnessed arrest or a non-witnessed arrest. Witnessed arrest with immediate bystander CPR improves the chance of survival of the victim. From the nature of the conversation, it appears that the doctor does not submit this information and seems to be frustrated with the nature of the question. If he knows the EMS 9-1-1 procedures he would be confident that paramedics were already dispatched, even though the questioning continued. Most modern 9-1-1 centers have a call taker and a dispatcher. Depending on the urgency, the call taker forwards the information on to the dispatcher, who can order crews and equipment to respond from the fire station, or alert the crews over the radio, if the paramedic crews are available on the air.
In addition, it is important for paramedics to have as many details about the call as possible while they are en route to the call. They are mentally better prepared when they can anticipate the conditions at the scene and the physiological condition of the patient at the scene. For example, if the cardiac arrest is not witnessed, they know that even with CPR performed, they already have a victim with a low oxygen disadvantage, and a body in a more acidic state. With optimal information, they are most likely to bring the proper equipment into the house, make better decisions, and use the best medications. The fire engine crew also has better awareness to bring the next line of equipment or the stretcher with IV setup ready. These seconds count. It is better to be a little more prepared en route.
According to reports coming from TMZ.com, paramedics saw a straight line on the EKG when they arrived. A straight line EKG is usually seen well after the erratic heart rhythms (arrhythmias) fade away as death becomes irreversible. Also there was a package of lidocaine, and evidence that lidocaine was used to treat Jackson before paramedics arrived. Lidocaine is considered "old school." There are other drugs that are more effective than lidocaine. Most paramedic crews only use lidocaine in late cardiac arrest, if at all. TMZ is also stating that paramedics noted that CPR had been administered for quite some time. A 2006 study found no survivors when there was a prolonged delay in initiation of Advanced Cardiac Life Support (ACLS) of 30 minutes or more. Early defibrillation, like what is available from an AED (Automatic External Defibrillator), is one of the most effective treatments for cardiac arrest and severe cardiac arrhythmias. Calling 9-1-1 sooner and having paramedics on the scene sooner with a defibrillator would have been the most effective first order of treatment.
The issues or faults in the performance of emergency care may not have affected the outcome of the resuscitation of Michael Jackson, but the faults do point to the need for all physicians to make sure they review their emergency care techniques and their understanding of the access to the Emergency Medical System in their area.
AUDIO: 9-1-1 Call for Help for Michael Jackson (June 25, 2009 12:21:04 PT) …
(Address and telephone number is omitted from the audio for privacy)
THE 9-1-1 TRANSCRIPT FOR LAFD 9-1-1 FROM CALLER AT CAROLWOOD DRIVE ADDRESS 6/24/2009 12:21:04
CALL TAKER: Fire-Paramedic 33 … what is the address of your emergency?
CALLER: Yes sir, I need to … uh … I need an ambulance … as soon as possible, sir.
CALL TAKER: What is your address?
CALLER: [Address omitted for privacy] Los Angeles California 90077
CALL TAKER: You said Carrolwood?
CALLER: Carolwood Drive, yes. [Comments in background unintelligible]
CALL TAKER: OK, sir … what's the phone number you're calling from.
CALLER: [Phone number omitted for privacy]
CALL TAKER: And what's the problem or exactly what happened.
CALLER: Ah, sir … I have uh … we have uh … a gentleman here that needs help and he's not breathing … he … yep
He's not breathing and need to … and we're trying to pump him but he's not [CALL TAKER INTERRUPTS]
CALL TAKER: OK, OK … How old is he?
CVALLER: He's ah 50 years old, sir.
CALL TAKER: 50? OK. He's unconscious … he's not breathing?
CALLER: Yes, he's not breathing, sir.
CALL TAKER: And he's not conscious either.
CALLER: No, he's not conscious, sir.
CALL TAKER: OK … alright. DO you have him … is he on the floor? Where's he at right now?
CALLER: He's on the bed, sir. He's on the b …
CALL TAKER: OK, let's get him on the floor.
CALLER: OK? [as if he has been moved to the floor]
CALL TAKER: OK, let's get him down to the floor. May I have you do CPR right now? OK?
CALLER: We need em … to get …
CALL TAKER: We're on our way there. We're on our way. I am going to do as much as I can to help you over the phone. We're already on our way. Did anybody see him [COLLAPSE]
CALLER: Yes, we have a personal doctor here with him, sir.
CALL TAKER: Oh … you have a doctor there?
CALLER: Yeah … but he's not responding to anything. No … no he's not responding to the CPR or anything, sir.
CALL TAKER: Oh. OK. Well we're on our way there … if your guys are doing CPR instructed by a doctor … he has a higher authority than me. And there on scene. Um. Was there anybody witnessed what happened.
CALLER: No … ah … just the doctor sir. The doctor's been the only one here.
CALL TAKER: OK … so the doctor seen what happened?
CALLER: Ah … uh [to the doctor on scene] … doctor, did you see what happened, sir?
DOCTOR ON SCENE: [UNINTELLIGIBLE] [POSSIBLY] … we need help!
CALLER: Sir. You just. Ah … uhm … if you could please … ah … ah
CALL TAKER: We're on our way. We're on our way. I'll dispatch these questions while they're on their way there, sir.
CALLER: Thank you. He's pumpin' … He's pumping his chest, but he's not responding to anything, sir. Please.
CALL TAKER: OK. OK. We're on our way. We're lettin' them on their way. We'll be there shortly.
CALLER: Thank you, sir. Thank you.
CALL TAKER: OK. Call us back if you need any observations. Bye.
CALLER: Yes sir. Yes sir.
RESOURCES:
Vukmir RB; Sodium Bicarbonate Study Group. Witnessed arrest, but not delayed bystander cardiopulmonary resuscitation improves prehospital cardiac arrest survival. Emerg Med J. 2004 May;21(3):370-3.
Vukmir RB, Katz L; Sodium Bicarbonate Study Group. Sodium bicarbonate improves outcome in prolonged prehospital cardiac arrest. Am J Emerg Med. 2006 Mar;24(2):156-61.
Vukmir RB. Survival from prehospital cardiac arrest is critically dependent upon response time. Resuscitation. 2006 May;69(2):229-34. Epub 2006 Feb 23.