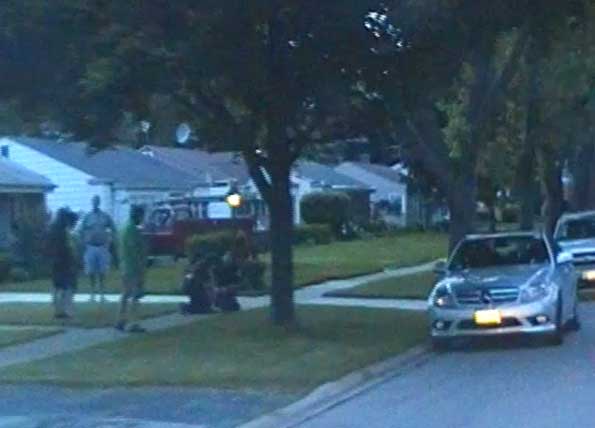 Arlington Heights police officers quickly had one individual in custody — shown here is a male lying on his right side with handcuffs in place and two officers managing the situation.
Arlington Heights police received a report about 8:25 p.m. of criminal damage to a vehicle in progress on Frederick Street between Haddow Avenue and Douglas Avenue. Three teen males, who appeared to be intoxicated, apparently got out of a Chevy suburban and damaged one or more car windows in the neighborhood. One person in a light colored shirt and swimming trunks was described as one of the offenders. The subjects, who were at times on foot and at times involved with the Chevy Suburban, were headed east on Frederick and then north on Douglas. Some confusion existed if the Suburban passengers were involved with the criminal damage or the pursuit of the offenders.
A fight between the offender and other teens in the neighborhood ensued. When police officers arrived they saw a crowd of about 30 teens and adults at the scene in front of a house in the 900 block of North Douglas Avenue. One person was injured and police officers quickly had one male in a dark T-shirt on the ground in handcuffs. As they sized up the scene, police reported that they had one juvenile with a bloodied face who appeared to be highly intoxicated. They immediately requested an ambulance and were on the scene for awhile sorting out what all the chaos was about. The teen had a bloodied face before police officers arrived.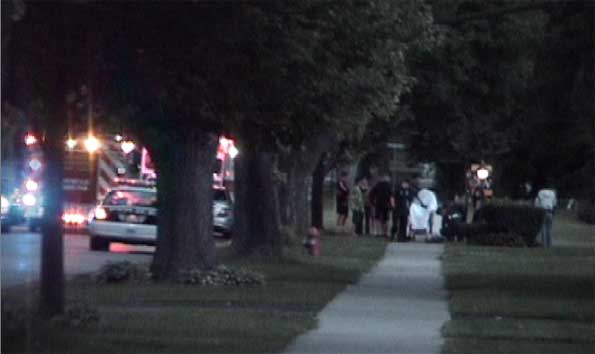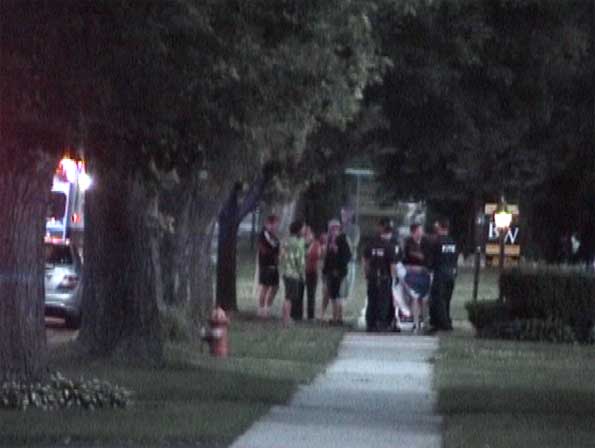 Arlington Heights Fire Department paramedics help a juvenile in a dark T-shirt and blue swimming trunks onto a stretcher.