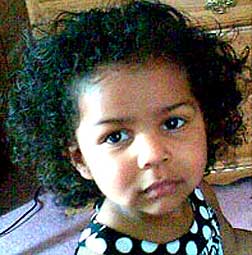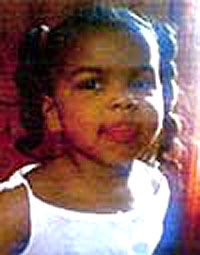 Missing 6/16/2009: Jada Justice
UPDATE: Engelica Castillo, 18, and Tim Tkachik, 23, each charged with murder, neglect of a dependent, battery and false informing in the death of Jada Justice. The couple were babysitting Jada, who was Castillo's cousin. After beating Jada to death they hid her body in a field in western LaPorte County. The body was discovered Tuesday.
FBI HOTLINE: 1-800-CALL-FBI The FBI and the U.S. Marshal's Service working with Gary Police Department on the case of missing Jada Justice, searching a wide area including Hobart County and Porter County.
Anyone who has information can also call an FBI hotline at 317-639-3301
On Tuesday, June 16, 2009, a relative from Hobart, Indiana took a short trip with toddler Jada Justice, to get milk at a gas station mini-mart in Gary, Indiana at Ridge Road and Louisiana Street. The relative, who was caring for Jada for about one week, entered the store for only minutes according to a report filed with Gary Police Department. When the relative (a cousin) returned after a few minutes in the Glen Park Gas Station at 1401 East Ridge Road in Gary, Jada was missing. Jada Justice was last seen sitting in a car seat in the relative's parked car at the gas station convenient mart. The car seat remained in the back seat.
Jada Justice is described as a black female, 3 years-old in August 2009, 2′ 2″ tall and weighing 35 to 50 pounds. Jada was last seen wearing an orange skirt, white tank top with orange and green stripes, and white sandals. Exact time of occurrence is unknown, but a police report was filed about 9:30 p.m.
There is no AMBER ALERT on this case at time of posting of the article because AMBER ALERT criteria requires suspect information to post an AMBER ALERT. No suspect information is available at the time of article posting. No custody dispute problems are known to be related to the case of the missing little girl. However, the cousin babysitter has been reported to have a history of associations with gang members. Also, police dogs did not pick up a scent to track any indication that Jada was near the Glen Park Gas Station.

View APB & AMBER ALERTS in a larger map [LOCATION NOT PRECISE]

View APB & AMBER ALERTS in a larger map
Subscribe to RSS headline updates from:
Powered by FeedBurner