View Larger Map
Google street view of Reformation Lutheran Church — 7601 E. 13th Street, Wichita, Kansas.
View Larger Map
********
UPDATE SUSPECT IN CUSTODY …
Suspect Scott Roeder, 51, of Kansas City, KS region apprehended from a blue Taurus during a traffic stop and was transferred to the new Johnson County jail facility at the New Century AirCenter.
********
Dr. George Tiller, 67, shot and killed at Wichita church just after 10 a.m. at Reformation Lutheran Church at 7601 E. 13th Wichita, Kansas, where he was a member of the congregation. The gunman shot George Tiller in the lobby of the church.
Manhunt for suspect … license plate information … Wichita police have stated they are looking for white male in his 50's or 60's, who was driving a 1990's powder blue Ford Taurus with Kansas license plate 225 BAB. The vehicle is registered to an owner in Merriam, which is near Kansas City.
Suspect described as 6-1, 225 pounds … light shirt, dark pants.
Saint Michael the Archangel Orthodox Christian Church, Wichita, Kansas is located directly across the street of N Broadmoor Avenue near the intersection with 13 Street in Wichita, Kansas. The Antiochian Orthodox Christian is not known to be involved with the crime that occurred at the Reformation Lutheran Church.
Obama said he was "shocked and outraged" by the killing. "However profound our differences as Americans over difficult issues such as abortion," he said in a statement, "they cannot be resolved by heinous acts of violence.
Developing …

View Chicagoland and Worldwide Crime Notebook Map in a larger map
The FBI and the KBI are involved in the investigation and search for the suspect, which is expected to be in a wider area than the local Wichita, Kansas area.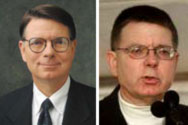 Dr. George Tiller
Tiller has long been a target of protests by abortion opponents because his clinic, Women's Health Care Services at 5701 E. Kellogg, is one of the few in the country where late-term abortions are performed. He was the physician medical director of an abortion clinic in Wichita, Women's Health Care Services, which specializes in the provision of late-term procedures done, according to their web site, "to the time in the pregnancy when the fetus is viable".

Video of George O'Reilly interview with a former Dr. Tiller patient named Kelly, who received an abortion at age 14.
On December 12, 2006 FOXNEWS host Bill O'Reilly conducted an interview with a woman named Kelly, who described an abortion procedure which involved a 5-day procedure of dilation of her cervix, followed by a third or fourth day procedure that involved the injection of a saline solution into the amniotic sac, which kills the fetus. On the last day of the procedure, the woman reported that she was placed in a room with 6 to 10 other women lying on beds while they wait until they are ready to evacuate the fetus. When each woman was ready for evacuation of the fetus, each was transferred to a wheelchair into a room with a toilet. The woman said that she was instructed to lean on a nurse and push the fetus into the toilet, which was accomplised. Finally, the woman said she was transferred to another room where she was injected with saline again to remove afterbirth materials. Kelly said she only saw Dr. Tiller during the two times she was injected with a saline solution. See FOXNEWS: Dr. Tiller Abortion Patient Speaks Out!
See also …
Reformation Lutheran Church (official website)
Women's Health Care Services, P.A. — drtiller.com
Kansas Bureau of Investigation – KBI