Video of violent collision of horses at Arlington Park Racetrack that seriously injured jockey Rene Douglas Saturday, May 23, 2009 during the Grade III Arlington Matron.
Race horse 'Born to Be' was knocked unconscious and flipped over, sending jockey Rene Douglas head-first into the race track. 'Born to Be' then landed on top of Rene Douglas, causing injuries that currently have him paralyzed from the waist down. Douglas was extricated from beneath 'Born to Be' in a rescue on the track. Douglas, 42, was first transported to Northwest Community Hospital and then transferred by helicopter to Northwestern Memorial Hospital spinal care unit, where he was placed in intensive care and underwent seven hours of surgery early Sunday under the care of spinal care specialists at Northwestern Memorial Hospital in Chicago. The surgery began at about 2:30 a.m. and continued until about 9:30 a.m.
Douglas suffered from fractures to two cervical vertebra, which were fused and stabilized in surgery. Also, compression injury to intervertebral discs of the back with T-5 jammed into T-6 (the fifth and sixth thoracic vertebrae) are apparently the cause of long-term medical problems for the jockey. The vertebrae were decompressed and then fused in surgery. The prognosis for recovery will be determined once inflammation and trauma to the back has had time to heal during the recovery process. Rene Douglas is scheduled to spend 10-14 days in intensive care before being transferred to a rehabilitation clinic. Douglas also suffered several broken ribs.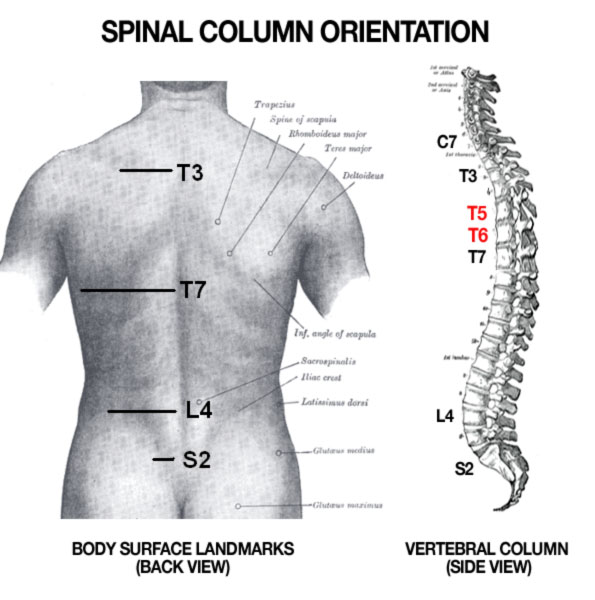 Artwork showing body surface landmarks of back with approximate location of noted vertebrae and vertebral column regions. C=Cervical, T=Thoracic, L=Lumbar, S=Sacral
Jockey Jamie Theriot was suspended for allegedly causing the violent collision at Arlington Park in Arlington Heights, Illinois. Douglas' horse 'Born to Be' had to be euthanized from injuries suffered in the crash.
Jamie Theriot, 30, was riding 'Sky Mom' in the Grade III Arlington Matron on Saturday when his horse bumped 'Born to Be.'
Jamie Theriot was demoted from fifth place to last and given a 30-day suspension set to begin May 30.

View Strange World in a larger map
Approximate location of horse collision at Arlington Park racetrack that seriously injured Rene Douglas.
Anatomy illustration is adapted by exercisereports.com from images in the public domain. The images copyrights have expired. This applies worldwide.