UPDATE: GETS PRISON TIME.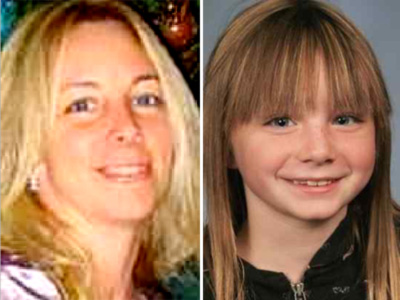 Photo of Bonnie Sweeten & photo of Julia Rakoczy.

But something's not right … a parking ticket issued at about 2:20 p.m. on May 26, 2009 was found on a Yukon Denali at 1:30 a.m. on May 27, 2009. An accident-carjacking-abduction was reported to involve that Yukon Denali a little before 2:00 p.m. — about 40 minutes from the site of the parked and abandoned Denali where the ticket was issued. Developing …
Philadelphia Inquirer: Security camera shows Bonnie Sweeten, 38, and Julia Rakoczy, 9, boarding a plane at Philadelphia International Airport with a one-way ticket to Orlando, Florida, just hours after Sweeten's frantic 911 call. Developing …
Woman and daughter found in Florida. Bonnie Sweeten may have emptied bank accounts up to $300K that did not belong to her. Developing …
Bonnie Sweeten and daughter apprehended in Disneyland in Orlando, Florida. Bonnie Sweeten in custody and Julia Rakoczy returning to her biological father.

View APB & AMBER ALERTS in a larger map
Satellite map of 15th Street and Chestnut Street: Location where Bonnie Sweeten's Yukon Denali was discovered 1:30 a.m. Wednesday.
Bonnie Sweeten, 38, and her daughter, 9, Julia Rakoczy remain missing, but their Yukon Denali was found 1:30 a.m. on May 27, 2009 at Chestnut Street and 15th Street in Center City, Pennsylvania. A recent cell phone tower that tracked Bonnie Sweeten's cell phone was only two blocks from the location of the found car.
The 9-1-1 call was received through a cell-phone tower at 12th and Walnut Streets in Center City, Pennsylvania. WPVI-TV (Ch. 6) reported Wednesday morning that Sweeten made seven calls to 9-1-1.
Sweeten called police from the trunk of the dark-colored 1990s Cadillac shortly before 2 p.m. Tuesday to report she had been abducted along with her daughter by two unknown black males. Sweeten told a 911 operator that her daughter was still in her family vehicle, a silver 2005 GMC Yukon Denali with Pennsylvania license plates GYK-8998.
Victim Descriptions:
Julia Rakoczy is described in the Amber Alert as 4 feet, 1 inch tall, 59 pounds, with long brown hair, blue eyes, and a dime-sized birthmark on her forehead.
Bonnie Sweet is described as 5 feet, 11 inches tall, 130 pounds, with blond hair and blue eyes.
The mother and daughter were apparently abducted after they were involved in a minor accident with a dark-colored Cadillac on Street Road in Upper Southampton Township, about a mile north of the city. When local police arrived at the accident scene at Street Road (Route 132) and Central Avenue Upper Southampton, Pa, both vehicles were gone.
A black Cadillac with front-end damage was found, but has not been confirmed to be the car involved in the abduction.


Facebook Concerned Citizen's Report …
On, May 26th a Mother(Bonnie Sweeten) and her young Daughter (Julia Rakoczy) were on a road in Southampton, PA at an intersection. Two men bumped Bonnie's car, upon getting out of her vehicle to assess damage and exchange information….Bonnie and Julia were kidnapped and thrown into the trunk of the men's black Cadilac….Bonnie's Silver Denali was discovered in Center City Philadelphia and the kidnapper's car was found in the Hunting Park section of Philadelphia…..if anyone knows anything, please contact Southampton and Philadelphia police..Please help to bring Bonnie and Julia home safely to their family. Let's keep Bonnie, Julia and their entire family in our prayers.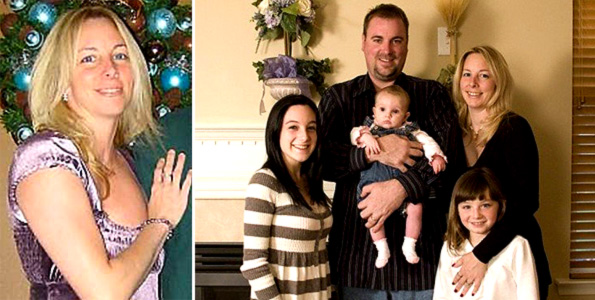 Bonnie Sweeten and family photo with Bonnie and Julia, right.
See apparent abduction site and abandoned vehicle site …
Bonnie Sweeten Denali Crash-Carjack-Abduction Site, Vehicle Abandoned-Recovered Site