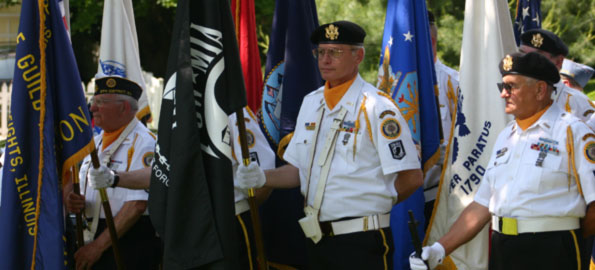 The Arlington Heights Memorial Day parade steps off at 9:30 a.m. Monday, May 25 from Arlington Heights Road and Sigwalt Street. The Arlington Heights Memorial Day parade route is is available from STREETSOFARLINGTON.COM at StreetsofArlington.com/memorialdayparade …
The Memorial Day parade route proceeds west on Sigwalt to Dunton, north on Dunton to Euclid, west on Euclid to Chestnut, and south on Chestnut to Memorial Park for a remembrance ceremony. Staging for the parade is located along Sigwalt and Davis, east of Arlington Heights Road.
A remembrance ceremony immediately follows the Memorial Day parade at Memorial Park in Arlington Heights. Memorial Park is located at the terminus of the parade at Fremont Street and Chestnut Avenue.
Beginning Memorial Day 2007, a community group of dedicated veterans and other residents started working in conjunction with the Arlington Heights Park Foundation to raise funds for the updating and renovation of Memorial Park – the park which honors our town's active-duty service members, veterans and their families.
The effort has become a multi-year effort to rebuild and rededicate the Park that was originally donated in 1883 as a Veterans Memorial by Dr John Best, and Arlington Hts Civil War veteran.
A video covering the history of the Park back to 1883 is now playing on the VAH cable TV channels (Comcast 17; WOW 6).
THE DRIVE TO REVIVE MEMORIAL PARK we page is available here …
ahparkfoundation.org/MemorialParkFund
The Arlington Heights Memorial Day Parade is sponsored by Arlington Heights VFW Post 981.
Memorial Day is a United States federal holiday observed on the last Monday of May. Memorial Day is formerly known as Decoration Day, it commemorates U.S. men and women who died while serving the military. Memorial Day was first enacted to honor Union soldiers of the American Civil War (celebrated near the day of reunification after the civil war). Memorial Day was expanded after World War I to include American casualties of any war or military action.
Memorial Day is often confused with Labor Day, which is the first Monday of September.