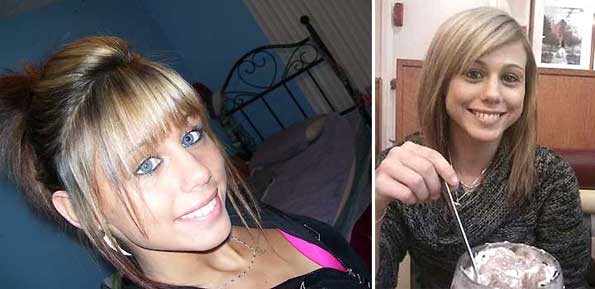 Missing teen in Myrtle Beach: Recent photographs of Brittanee Drexel, 17, of Rochester, New York.
Brittanee Drexel, 17, of Rochester, New York went to Myrtle Beach with a group of friend or acquaintances and checked into a hotel. Drexel is described as five feet tall; weighing 103 pounds with brown; shoulder-length, straight hair and blue eyes. She was last seen wearing a multi-colored striped shirt, black shorts, and flip-flop sandals.



Surveillance video from lobby of the Blue Water Resort in Myrtle Beach [April 25 , 2009 7:55 PM – 8:25 PM].
Known whereabouts …
Brittanee left for Myrtle Beach on Wednesday, April, 22nd, 2009.
Brittanee Drexel's original hotel was the Bar Harbor Hotel, which was vacated on Saturday, April 25, 2009. She left all her belongings behind, except her cell phone, which has been tracked.
Brittanee left the Bar Harbor Hotel Saturday night about 8 p.m. and went to visit a friend named Peter Broswick, who was with a group of male friends at the Blue Water Resort, about 20 blocks from the Bar Harbor Hotel.
Broswick is also from Rochester and left the beach town for home about 1 a.m. early Sunday — the night Brittanee was last seen.
She was last seen Saturday night by a man named Peter Brozowitz, 20, who is described by police as a 'person of interest.' She had just met some friends the night before at a bar in Myrtle Beach, South Carolina. Brittanee went to Myrtle Beach against the wishes of her parents. Brittanee's mother Dawn Drexel has stated that her impending divorce with Dawn's stepfather has caused her daughter to be depressed. Brittanee's mother immediately traveled from Rochester to Myrtle Beach to assist authorities and search for her daughter.
A teen fitting Drexel's description was seen getting of a bus Wednesday morning near the hotel where she last stayed, but that lead turned out to be false.
Please contact the Myrtle Beach Police Department with any information at:
1-843-918-1300 or 1-843-918-1000
You may also contact National Center for Missing & Exploited Children at:
1-800-THE-LOST® (1-800-843-5678)
SOURCES:
helpfindbrittanee.com
Myrtle Beach Police Department
MissingKids.com Brittanee Drexel Endangered Missing Poster
AMERICA'S MOST WANTED 00 AMW.com Brittanee Marie Drexel Profile